Hello, I have not been able to assemble a rover for 1 month
I will explain the whole situation: my supervisor instructed me to assemble a rover on the remote control. I began to study articles on the subject and follow the step by step instructions, but because I do not understand (or do not understand at all) what I do, I do not get anything (a normal explanation of the meaning of steps I have not found). I reread hundreds of times guide, watching training videos but they are always something missed or not given due attention (in the calculation that it is already clear), but I do not understand! Also, I got someone else, old PixHawk and I do not know what was it before me, but it periodically breaks without reason. I'm already tired of struggling with it, because I really want to learn how to build a Rover by myself, but the whole situation takes me out of force. So please, knowledgeable people help me!!!
About what I use:
RadioLink at10 remote control
RadioLink r12ds receiver
PixHawk 2.4.8 (with official Rover firmware v4.2.3)
Driver zd-5ad(I will attach the truth table)
Case from a machine consisting of two 9 V brush motors(one of which turns the wheels and the other is the rear drive)
I need it to be controlled by remote control with two channels (one responsible for forward and backward, the other for the right-left)
And one more question in the servo output there are different functions but it is not clear to me what they do and how to control them.Also I would really like to know how to link functions and rs channels.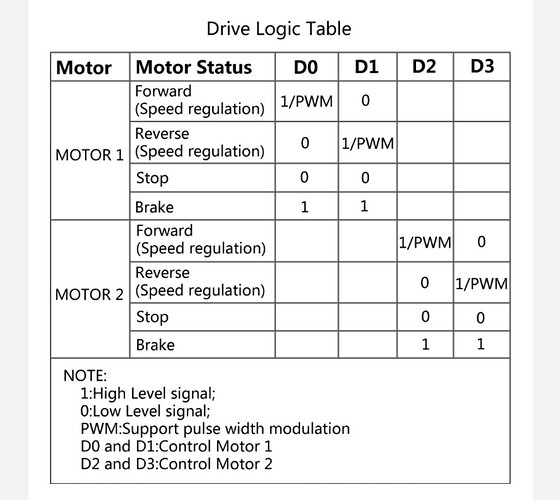 here's the principle of the swivel mechanism and if you power it too long, it will fly out of the slot and it can't swivel anymore