Hello, everybody.
I configured GPS_YAW on my rover, but it failed all the time. Can you guys help me?
At present, the following problems have been found:
The default rover's current course is 0 degrees after startup, so the correct course cannot be displayed.
The device cannot be unlocked in Auto mode, and "GPS[2]yaw not available" is displayed.However, a linear change in heading (although the heading is incorrect) can be seen by turning the vehicle.
The ground station status is shown in Figure 1, and the status of the two GPS hardware is shown in Figure 2.
Figure 1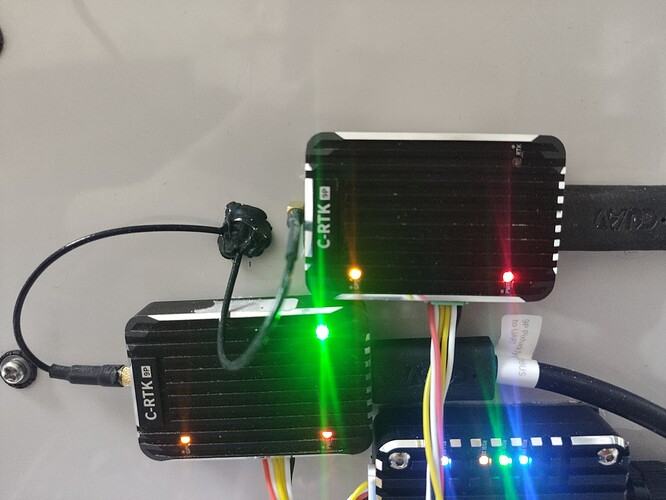 Figure 2
In Figure 2, GPS1 is at the top and GPS2 is at the bottom. The orange indicator indicates that the position has been obtained, the red indicator indicates that the power is switched on, and the green indicator indicates that the RTK signal has been received.
The controller I use is CUAV V5+, the GPS module is two CUAV RTK-9P, the firmware I use is ArduRover V4.2.0-Beta2, but after testing, version 4.1 also has this problem
UART1 of Gps1 connects to UART4 of flight control, UART1 of Gps2 connects to UART7 of flight control, and UART2 of Gps1 connects to UART2 of Gps2.
The configuration file is as follows:
https://drive.google.com/file/d/15pl08rc88TD914qaA_Rhz5T9RpwuX3w9/view?usp=sharing
The log file is as follows:
https://drive.google.com/file/d/1z5ysBF0F47IQQEw_TEuuPun8c8BKEc0x/view?usp=sharing