I've been trying to get my pixhawk working with a basic ublox 6 GPS receiver.
I get a good GPS lock when i am disarmed and on the ground. I can swap to GPS flight modes on the ground while disarmed and i get confirmation via the LED and also via my phone across bluetooth.
As soon as i arm and take off all the GPS flight modes stop working.
Here's a log file with error messages;
arduplotter.com/view/569e9e3 … 3d6fdf#gps
I have reset everything to defaults several times, reflashed plane then copter firmware to ensure everything is wiped, no change in behavior.
Here's a screenshot of my terminal;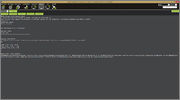 I am a little bit worried about the nonesense characters that are present. I get about 3 or 4 every few seconds that interupt my typing and prevent my using the terminal.
I get the same nonsense characters via the terminal even with all serial devices including GPS and bluetooth removed.
Have i broken my pixhawk somehow?