I have fried three Pixhawk Mini's and I still have no clue why.
I am using the autopilot on a 3D foamy fixed-wing. The wiring setup is like this, except that:
the 8 channel PWM board is also powering the aileron, elevator, and rudder servos (the rail is powered by the motor's ESC)
I have a 5.6V Zener Diode attached to the PWM board
the power distribution board is also powering an ODROID XU4 (first going through a voltage regulator)
there is no telemetry dongle, instead, the TELEM port is used for communication between the ODROID and Pixhawk Mini. The communication wiring I use (with an FTDI cable) is described here. I am only using the TX/RX/GND wires and the communication works.
The problem never happens in flight, it is always while the aircraft is on the ground, armed. The first time I encountered a problem, the control surface servos started flicking back and forth and then going full deflection. One of their circuits burned and started smoking. I keep encountering a similar problem: the control surfaces started flicking, I quickly unplug the battery, and then the Pixhawk Mini no longer functions properly. On one of them, I can see that the TI 6C 2115 part (a voltage regulator, I think?) is burnt (see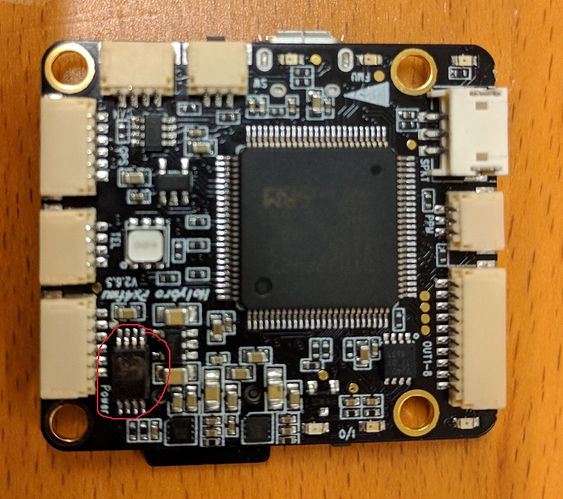 where the component is circled in red). The other two Pixhawk Minis are also dysfunctional. I can't see signs of burning but I smelled it at the time; I quickly unplugged the battery when the control surfaces started going wacky. I have tried replacing the power distribution board, Pixhawk Mini, ESC, and GPS. I have put an oscilloscope to basically every wire going in and out of the Mini and have yet to detect any issues.
Anyone have any idea why this is happening?