(from my facebook post, I repost here so one is able to find it in the future)
Here I draw a typical V-n-Diagram for an average Arduplane with stall speed of 10 m/s positive, 14 m/s negative, top speed of 20 m/s and load limit of (quite low) 3g.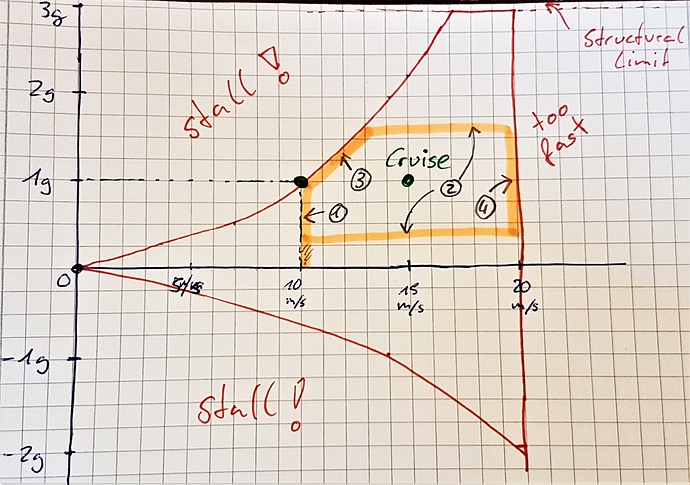 As one can see there is an positive and negative area where a stall happens, even if you are still over the "stall speed" of 10 m/s. The normal level flight is marked in green with "Cruise".
Also I draw in orange text marker where Arduplane is limiting your flight at the moment (to my understanding) with the following numbers:
(1) FBW min speed
(2) TECS_VERT_ACC of the stock ± 0.7g
(3) Automatic bank angle limit based on airspeed. Note here that this is only limiting the force through bank, but not through elevator pull (!!!)
(4) FBW max speed
As one can see there is a lot more area where one could operate, but without implementation of the proposed logic we can not use it.
What I propose is that we should implement this in the plane firmware and have a way in MP to visualize the actual state.
In a further state we can automatically determine this parameters.