Noticed a number of changes in Mission Planner lately. The online documentation is dated.
When you plug in a board to your laptop, the MP tries to identify the board and gives you e.g. the following.
         a) How this message correlates with the drop down options listed below?
         b) How to translate these messages into something more meaningful?

When installing the firmware, under the drop down option now you have all these options. Can someone kindly explain me what does each of these options means. Some names make sense, some are kind of confusing.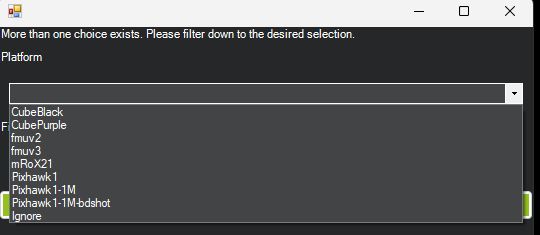 a) Cube Black and Purple are self explanatory but what if you have Cube Orange?
b) fmuv2 - What FC?
c) fmuv3 - What FC?
d) mRox21 - ok MRobotics FC.
e) PixHawk1 - **So this is the 2MB version of the Pixhawk. Correct?**
f) Pixhawk1-1M - **What FC?** assume 1M older version?
g) Pixhawk1-1M-bdshot - **What FC?** - are we just enabling D-Shot or ???
e) ignore - **What are we ignoring?**

If there is some detailed documentation out there , I would love to read it. I am not finding one.
Thanks…