Would it be possible to make ALL CH5-14 Aux channels editable form a screen all together? I know I can find them in standard params using the "Find" button, but this is very time consuming for me. infact, I have to constantly flip back and forth between the Radio Calibration Screen and the standard params (and search again…) because I cant be bothered to memorize which switches on my radio are mapped to which channel.
…Maybe we could add a "Aux Channels Setup" page to the Config/tuning tab? Like this?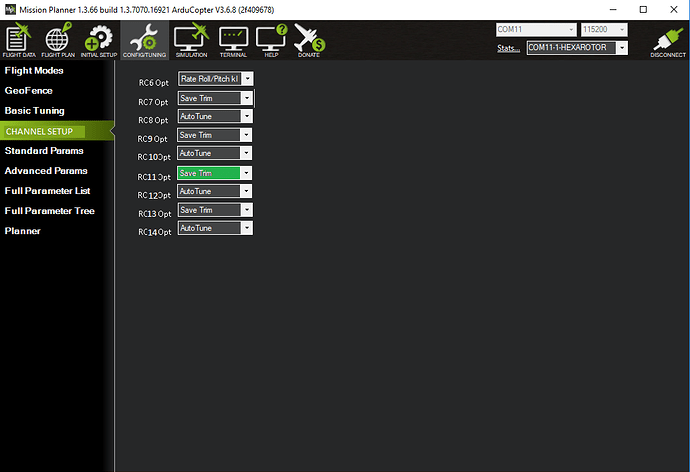 This would skip the mental gymnastics of associating a particular switch on my transmitter with a particular receiver channel AND then having to associate a particular receiver channel with a particular function in ardupilot. Instead, with this screen, we would be able to 'shortcut' it in our minds and simply associate a particular switch with a particular function. After all - does the actual receiver channel number matter? No. Who cares. What matters is which SWITCH does what. Anyways, even if receiver channel number does matter - it would be displayed right along side in my proposed aux channel setup screen.
Itd be even sweeter if the associated Channel could be highlighted when flipped HIGH like shown above on CH11? This would allow the user to quickly setup all aux channels at once and also be able to decipher which switched are mapped to which channel by flipping it on/off with the visual feedback of that channel highlighting on/off. If green represents which params have been changed like the full param list, then maybe there could be a CH status column with a different visual cue? maybe a different color? maybe a little radio light to the right that turns red when high?