@Allister I have few questions about FBWA and RTL mode:
I am flying a twin motor plane and both my motors are set as right and left for differential thrust. However, during FBWA mode I see not much effect from differential thrust. Very slow flat turn almost feels like that the plane was turning only using the rudder. Is differential thrust is disabled in FBWA mode?

How would the plane react during stall in FBWA mode? I was trying slope soaring technique to keep the plane floating in the air without any power, but all a sudden plane tip stalled and got out of control spinning towards the ground. I was able to save the plane by throttling up. Something tells me I should never do this again.

Can I change the throttle percentage for RTL and Auto takeoff? The document snapshot below is a bit unclear to me. Should I change Thr_Max to 50% and it will automatically will change the RTL speed?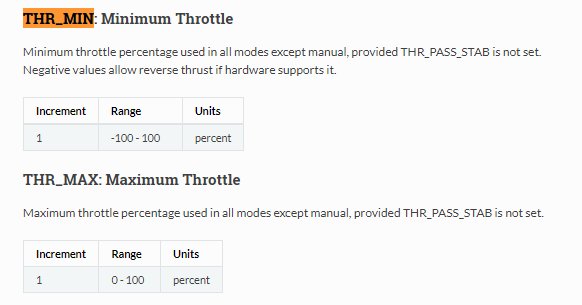 Thanks.