hi, hope someone can help.
Just setup a F550 hexacopter running arducopter 3.5.2 on a pixhawk 2.1 with Here GNSS GPS.
I tried a first flight with a Hobbyking multistar 3s 5200 mA battery using propdrive 2826 1000kv motors. I can see from the telemetry log playback that the initial RTL was caused by low battery. The Copter clearly draws too much current for C rating of the battery and it pulled the voltage down to below the RTL threshold. Obviously I need a higher C rated battery which I will purchase in due course.
When it entered RTL it went into an almost out of control spin. It did try to return to launch but was spinning a lot and therefore was almost out of control. It did eventually come down whilst still spinning and then I had to throw my coat over it as the props were still spinning. Arducopter then recognised this as a crash and eventually disarmed.
Maybe the spinning was caused by a compass problem. Ive included a screen shot of the compass calibration screen. Is this setup correctly? I just selected Pixhawk/PX4 for the quick configure parameters - does this setup the compasses correctly or do you need to do it manually?
I've also included the telemetry log if this helps?
Thanks
Mike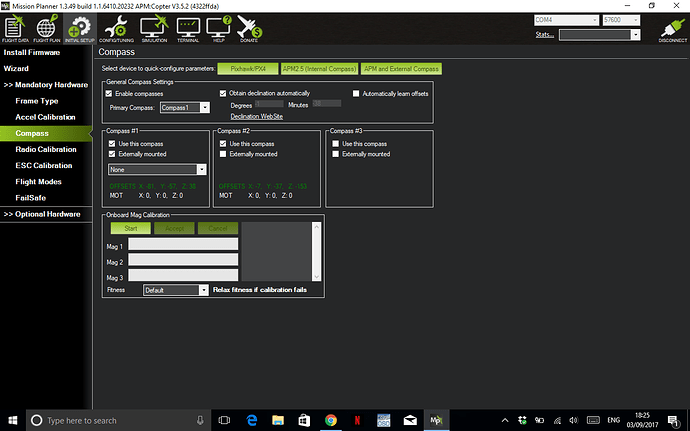 2017-09-03 17-21-06.tlog
(512.9 KB)