Hi folks.
I'm looking for the best way to realize a dynamic way for arduplane to land my plane in case of a failsafe (and still have RTL working on a switch).
Like, assume my Radio breaks, TX or RX fails etc. I dont want it to loiter until the battery dies and crashes but instead find a safe way down.
On a seaplane, which I always fly on the same spot, I set it up like this:
FS_LONG_ACTN=1 (RTL)
RTL_AUTOLAND=1
Then I set up a rally point plus a mission like that:
DO_LAND_START
LOITER_TURNS 2
WAYPOINT 1…3
LAND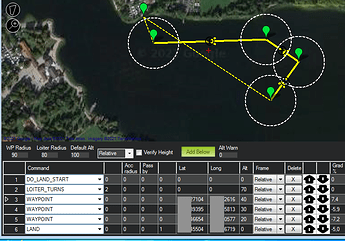 So when hitting RTL switch - or in case of a failsafe - it behaves like that:
flys home to rally point
loiter for 2 turns
head out to approach the "landing strip" and decend
land autonomously
Now, this works as desired but only for that one location.
On another plane which I fly on many different spots, how can I set something up like this without having a mission with coordinates? Maybe something like, land in the same direction where it launched?
I tried various things in MissionPlanner but some of mission elements seem to require coordinates or begin to draw waypoints on the map in the middle of the ocean.
Thank you in advance.