I am working in AC 3.2.1, and trying to use pymavlink library to send MAV command to the flight controller .
The apm is correctly listening to most of the command that include in
1)arm and disarm command
2)mode change command (guided,land)
3)streaming telemetry command
However ,apm fail to takeoff .
I tried to see on simulator using dronekit copter 3.2.1 and the takeoff commands works
I find an attachment which states that 3.2.1 can takeoff in guided mode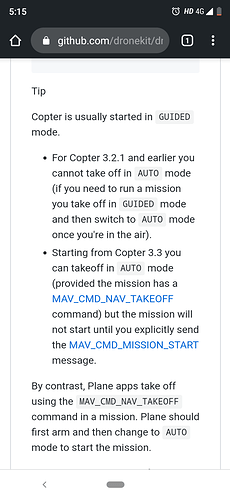 Can anyone know it what is the issue. One more thing I am building the 3.2.1 apm code on arduino-ardpilot software and uploading it.
Thanks in advance
Samarth