Hi,
I have a S500 that I purchased second hand for pretty cheap. It had a APM 2.8 on it, but I changed it to a Pixhawk 2.4.8 recently. I never really flew it with the APM on (but it did get airborne and lazily hover), but it wasn't tuned great and I didn't spend much time on worrying about it as I knew I was putting a different AP on it anyways. Now, I've had two flip overs when the throttle is brought up to about a quarter. It feels a little to sporty for me, and I will modify this as I go, but the issue is that it flips over… and it's always to the right.
2212- KV920 (look like ReadySky)
30A ESC's Hobbypower
Pixhawk 2.4.8
ArduCopter V4.0.7 (0bb18a15)
ChibiOS: d4fce84e
fmuv3 003E002C 3036510D 36373734
Master Airscrew 9 X 4.5 Props
4S 2300 mAh 45C
Here's where I am now
Calibrated the ESC's (3X's now)
Calibrated RC on MP and on my Taranis QX7S
Followed the recommended initial tuning
Props and motors are all turning in the right direction
My motors were initially in the wrong order, but they're now in the proper sequence on the motor test page. The drone may flip over to the left now, as the it appears motor 3 is really struggling.
I don't feeling like dinging more props, so I'm not going to attempt a take off until have some more info on what I'm doing wrong.
I've anchored the drone down and completed some power tests. I'm far from an expert but I see large difference is motor outputs (at least I think I do).
Am I dealing with hardware issues? Tuning issues? User error? I realize these are cheap parts, but it's the journey. It appears a similar question has been asked, but it's either expired or its in a private group. I can't gather any info on it.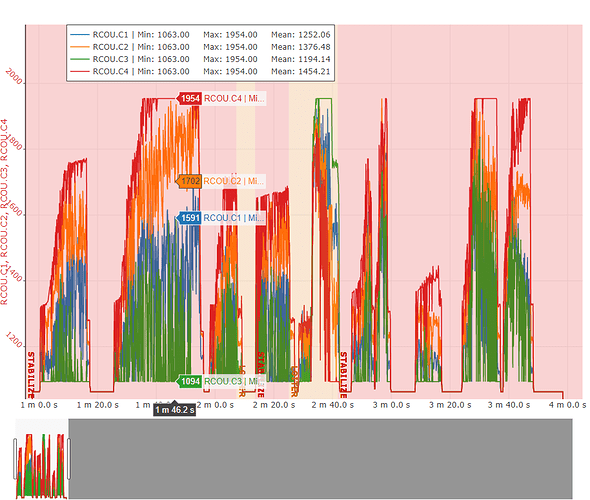 Thanks a lot.
BIN and Param Files