Hello to all,
I am building a new rover on a Kraton 8S platform and Rover 4.1.1. I am trying to tune the steering with no sucess so far. I guess that a set of correct values for the ATC_STR_* parameters should work, but after many trials, I see a weird behaviour I cannot explain, any help will be much appreciated!
Basically, The rover works well in manual mode, it does sharp curves and have set ACRO_TURN_RATE to 100 deg/sec.
But in acro mode, steering is too weak. It seems to work at first, but after a few meters, it seems that the angle is lower and lower. I have tried to follow the tunning guide at Tuning Turn Rate — Rover documentation.
First, setting FF parameter higher and higher, up to a value of 2.5 (max is 3). Then I raised P and I values (both up to 0.5) , but still not enough.
In this screenshot of the PIDdesired and PIDachieved values it is clear that the 100deg/sec command is never achieved: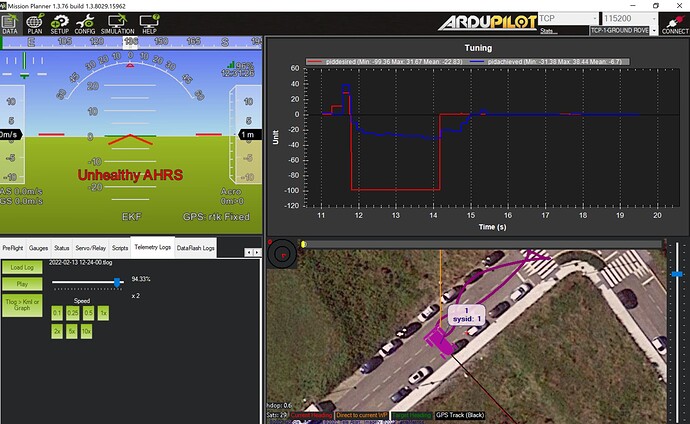 But the weird thing is that, with the stick full to the right or to the left, the angle of the wheels seems to decrease gradually, even with the I parameter having a non-zero value: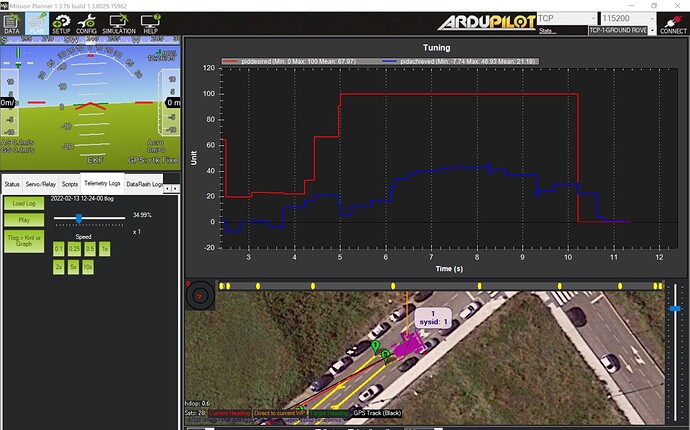 I understand that the Integral part of the should try to correct the error if it remains high for a long time.
I have not increased FF, P or I values because I think they are very high and the behaviour does not change. I suspect that I forgot to change some other important parameter, but I don't know which one it could be.
Any help will be appreciated.
This is the tlog file : 2022-02-13 12-24-00.zip (855.6 KB)
These are the parameters from the log: colina problema steering 00000010.BIN.param (15.4 KB)
Thankyou all in advance.
Adolfo.