Hello folks,
Default throttle value issue
I have a question about default throttle value (RC 3 channel) on SITL.
When I execute ArduCopter on SITL, it uses 1,000 as default throttle value as shown in the below.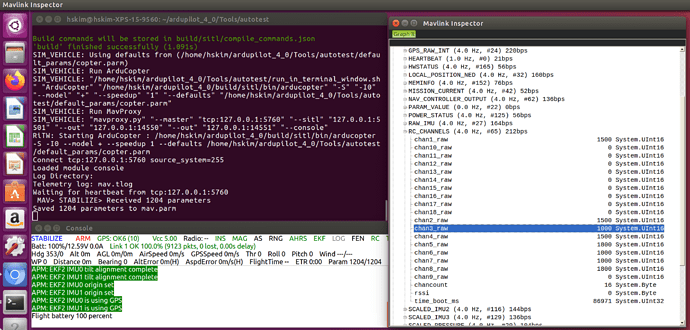 On the other hand, other RC channels (roll, pitch, and yaw) use 1500 as default values.
Is there any specific reason to assign 1,000 to RC 3 channel? (i.e., why SITL does not assign mid-throttle value such as 1,500?)
This is because the drone loses his altitude if I am not assign a value more than 1,500 to RC 3.
Also, many guys already suffered from this issue.
Is there any problem if SITL starts to use 1,500 as the default throttle value?
Min/max throttle value
There are user parameters to limit each RC channel such as RC3_MIN and RC3_MAX.
In order to simulate disconnection of RC channel such as "rc 3 900" command, I don't think we need to limit the minimum of the RC 3 channel. But, users still put any value to RC 3 such as 65000. It causes decreasing altitude of the drone. Can we respect the min/max parameters when users input values on RC channels?
Thanks in advance!