Hi community,
I am working on a robotic boat project and I would like to ask a few questions during my deployment.
For your information, I am using a boat frame (Pixhawk 4) with two motors (differential drive) and I have a companion computer too based on ROS (MAVROS).
Pixhawk 4: Holybro
External compass (1ea): Holybro
1. Dataflash log are partially missing.
I deployed three times so far and I have been observing some partially missing data (during the last two) in the DF log. It is missing data temporarily. Please see the circle part here in the picture.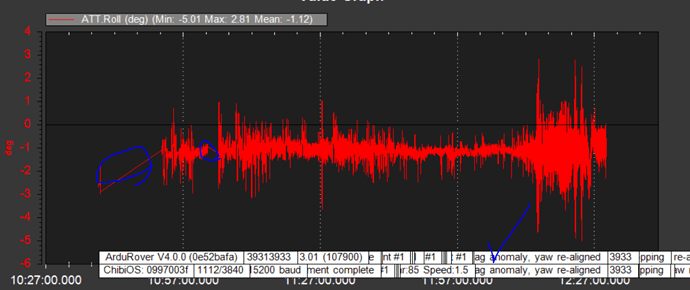 .
I recognized that during that time, other data in addition to ATT.roll (in the picture) are all missing. Can someone tell me why this is happening?
2. EKF2 IMU mag ground anomaly, yaw realigned
For my boat, it is about 100lb. I did all the calibrations including accelerometer, compass, etc. I have intermittently observed "error compass variance" and "EKF2 IMU mag ground anomaly, yaw realigned" (blue check mark in the picture) when the robot is turning. It is actually not that critically affecting the performance for AUTO mode at waypoints as I am seeing it is following. But, what would be the main reason for this and how I can fix it ?
3. Minor question
Is there any way I can playback DF log in a same way as Telemetry log? I know some tool like web-based UAV logviewer. It seems to be slow though. I would appreciate if someone know offline based quick viewer.
For Q1, Q2, I am also attaching one of my DF log here. Thanks!
https://drive.google.com/file/d/15BugEz8l3rZF-JtP3RQrmvcFDDfCCqYM/view?usp=sharing