To complement Core Cuav V5, V5+, X7 and X7 Pro, Cuav developed a carrier board.
http://www.cuav.net/en/can-pdb/
When I placed my order few weeks ago for that item, I was informed that a new version was soon to appear and I choose to wait a few weeks in order to have the latest product.
The are some improvement: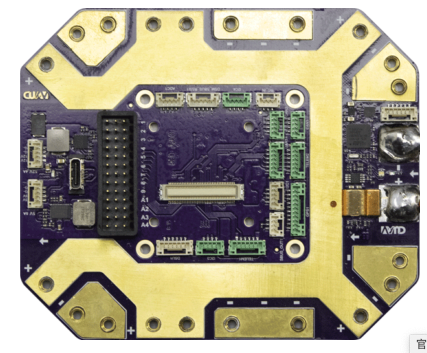 There are14 PWM out instead of 13. It is the same layout on the Nora or X7 carrier board. You can also see two additional power plugs (Power A and C) at the front of the board.

Main board power supply is from the pigtail with XT90 plug. Board also provide 12 and 5V out BEC power. I use 12V for gimbal and landing gear. 5V is used to power servo rail.
ESC are connected to the board with 3 mm screw. Screw and connectors are in the box.
There is cover to protect the board when installation is completed.
I installed the board on a damping plate
Vibration and RC Out log from latest flight (first with the new installation).