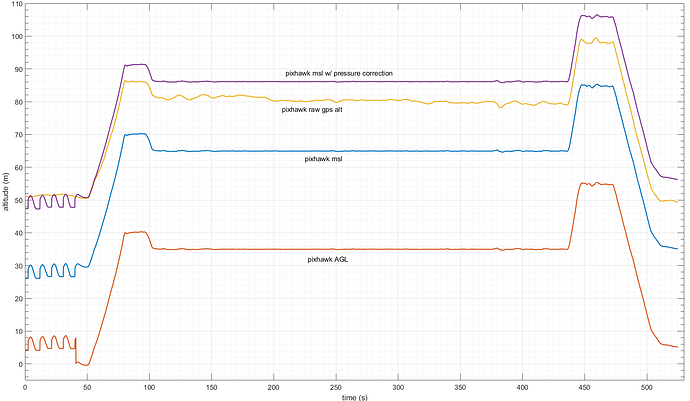 I have been analyzing the altitude reported by the autopilot to get an idea of its accuracy. In the plot, both MSL and the above ground level (AGL) as reported in the GLOBAL_POSITION_INT message are shown as well as the raw GPS altitude given in the GPS_RAW_INT message.
The MSL altitude seemed quite low for the field level where we were flying (according to google earth the altitude at our takeoff point is about 46 m msl). On examining the autopilot parameters I discovered there is a GND_ABS_PRESS parameter which is the ground pressure for the autopilot to calibrate to. It was set to 101880.9 Pa while the actual baro at the field was about 101626 Pa. Using those numbers I calculated a correction offset. Adding that to the MSL alt is also shown in the plot.
The last issue I'm curious about is there seems to be a scaling issue. According to the pixhawk raw gps alt, the initial climb was 35 m (from 51 m to 86 m), but according to the MSL altitude (or AGL too), that initial climb was 40 m. Is there a way to account for sensor scaling or is there another issue here?