Hello,
So I have been attempting to set up WS2813 strip LEDs to function as direction / status indicators for my quad using the Pixhawk 2.4.8 and Lua scripting. However I have been having some issues.
Firstly, I always see the 'Lua: No scripts to run' message regardless as to whether a Lua script is running or not.
I have had success running a simple 'hello world' script example taken from here: https://github.com/ArduPilot/ardupilot/tree/ArduPlane-stable/libraries/AP_Scripting/examples (although for some reason I got a syntax error for the commented line). However when I attempt to run the LED roll script I am faced with multiple Lua errors (that always seem to cut off after a certain amount of characters in Mission Planner's Messages tab rather annoyingly).
Setting SERVO12_FUNCTION to 94 and running this basic LED test script:
local num_leds = 4
local vez = 0
local chan

chan = SRV_Channels:find_channel(94)

if not chan then
  gcs:send_text(0, "LEDs: channel not set")
  return
end

chan = chan + 1

gcs:send_text(0, "LEDs started.")

serialLED:set_num_LEDs(chan, num_leds)

function update_LEDs()
  serialLED:set_RGB(chan, 1, 255, 255, 255)
  serialLED:send()
  return update_LEDs, 500
end

return update_LEDs, 500

Giving me this in Mission Planners Messages log: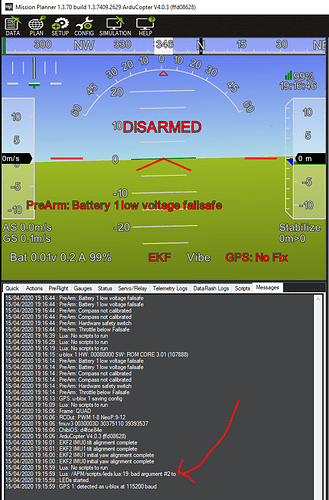 I have attempted removing the variables and hard coding it but get the same error. It is very frustrating to debug as I can only see part of the error message!
As an aside, I was hoping to use the beta Mission Planner and MavFTP to upload my Lua scripts (instead of manually moving them across to the scripts folder in the SD card), however these are the only folders it gives me: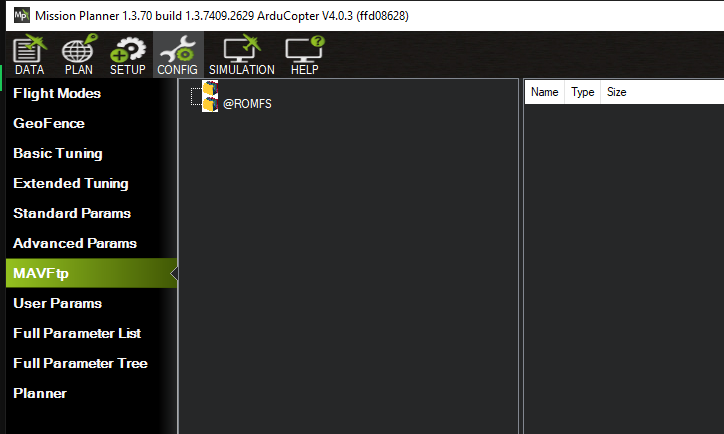 Thank you for any help!