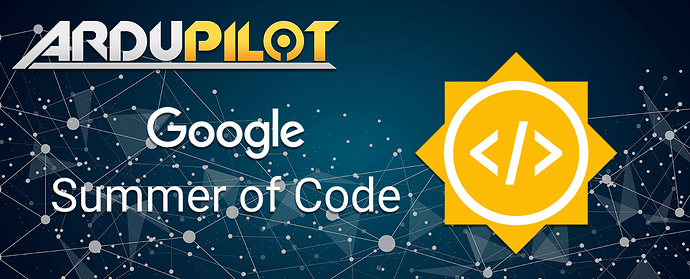 It's official, Google announced yesterday Ardupilot projects selected for the 2020 season of the Google Summer of Code .
Ardupilot this year selected 5 student proposals, and all were accepted and will be funded by Google. Congratulations to those students!
The projects selected are (listed in the same order as Google announced):
EKF Smart Lane Switching, Harshit Kumar Sankhla.
Matlab Simulink support , Peter Hall.
Improvements to Object Avoidance in Rover & Multicopter , Rishabh Singh.
Walking robot support , Ashvath Subramaniam.
Enhancements of non-GPS navigation and object avoidance with Realsense cameras , Thien Nguyen.
Harshit is pursuing a Masters Degree at the Robotics Research Center at IIIT Hyderabad in India.
Peter is a PhD student at Swansea University in the UK, and a prolific and long time contributor to Ardupilot.
Rishabh is a third year undergraduate student currently pursuing a dual major in Mathematics and Electronics & Instrumentation at the Birla Institute of Technology and Science, Pilani-Hyderabad, in India.
Ashvath is a third year undergradudate student pursuing a major in electrical and electronics engineering at the Vellore Institute of Technology in India.
Thien is a 2nd year Ph.D. student studying at Nanyang Technological University (NTU), in Singapore, and prolific Ardupilot contributor and a second time GSOC selected student.
Ardupilot Selection Process
As in prior years, Ardupilot received a large number of proposals, and the selection process was not easy. Here is more information about how Ardupilot went about it.
Our informal GSoC review committee, consisting of 15 volunteers from the dev team, ultimately received 62 proposals, and each was individually reviewed by at least two committee members and were assigned a grade. Scoring was based on the following criteria:
Clarity of the proposal
Requisite skills
Realistic goals
Experience in the proposal's domain
Experience with flight software
Benefit to the Ardupilot community.
Following this, the top 10 highest graded proposals were discussed and final scoring averaged from at least 5 reviewers. The top scores assigned by reviewers ended up very close, and we "starred" these proposals in Google's proposal database.
At that time Ardupilot then submitted its "slot request" to Google. A slot is Google's terminology for a project Google would accept to fund. Ardupilot followed Google's general guidelines for the request, especially Google's advice that the number of slots requested should be based on conservative estimates given a participating organization number of available volunteer mentors: Indeed, mentoring a student is a great responsibility and a very significant time investment for mentors, so it's best to be conservative and be assured that all students accepted will be mentored with the attention they deserve.
We requested 5 slots based our mentors availability (6 primary and backup mentors this year from the dev team, (Jaime, Patrick, Paul, Pierre, Randy, Tridge) and were happy to learn that Google assigned us our request, 5 slots. After knowing this and further discussion the committee then reached a consensus and selected the final top five projects.
What to do if your were a prospective student and your proposal was not selected
First, and as in prior years, you should know that a non selected proposal does not mean it wasn't a high quality one. As mentioned above there were many very good ones. And the fact that the selection was reached via consensus doesn't mean the choice was easy. In fact it was a difficult choice for all reviewers, as several student proposals were very close in quality and score as the final 5.
Second the Ardupilot team is always eager to hear from you and collaborate further. We hope your interest for the project continues, and of course the Ardupilot project would be delighted to engage in further conversations and collaboration.
What's next
Between now and June 1st, students and mentors will be in a "community bonding period", where "students spend a month learning more about their organization's community".
After that and until August 24th, coding will then formally begin.
Per Google:
while time.now() < deadline:
  code() and debug() and document()  

Those interested in following GSOC related conversations more closely may want to check Ardupilot's GSOC gitter channel.
Sincere thanks again to all prospective students, from the Ardupilot team and community. And again, congratulations to the students selected!