Holybro Pixhawk 1
Arduplane 3.8.4
Mission Planner 1.3.50
Windows 10, 32 and 64 bit
I'm not sure if this is a Mission Planner or Arduplane problem. When I load parameters from a .param file the chute parameters aren't included. This has been around since Arduplane 3.8.X.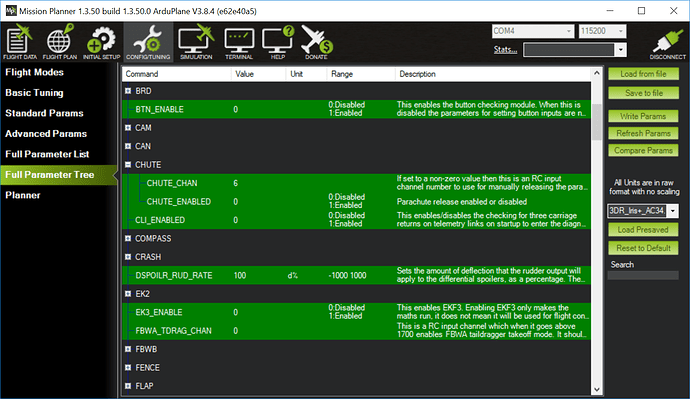 I have just loaded a parameter file that contains these Chute parameter:
CHUTE_ALT_MIN,0
CHUTE_CHAN,6
CHUTE_DELAY_MS,500
CHUTE_ENABLED,0
CHUTE_SERVO_OFF,1900
CHUTE_SERVO_ON,1100
CHUTE_TYPE,10
However, they don't appear in the Parameter Tree. I can try over and over and then I get lucky and they're there. I've tried different PCs, cables. There's no rhyme or reason. Just installed the latest Mission Planner (1.3.5.0) - same problem. I have attached the parameter file.
UAV_Mapper_3.8.param (14.2 KB)
Thanks!
Brian