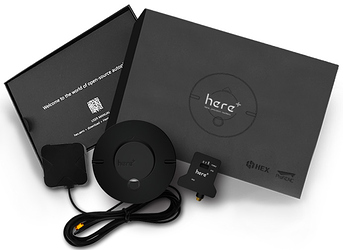 Congratulations to Michael Du Breuil for winning the "Best Contribution of the Month" for Jan 2017 for his Added support for HERE+ GPS and other RTK intergration
This new feature adds support for the uBlox M8P RTK GPS, between this work and that of Michael Oborne, using RTK has never been simpler. Setup of the base station on Mission Planner (donate )is only a couple of clicks, and there is basically no setup on the aircraft. The usage is transparent to the user, other than the notification of GPS status 5 (RTK Float) and status 6(RTK FIX) to show you its all working well.
The prize this month is $200 plus a NAVIO2 Linux autopilot on Raspberry Pi Kindly Donated by Emlid

By the way, the "Best Contribution of the Month" will continue each month of 2017. Contributions can be bug fixes, new features, improvements to the wiki or anything else that helps the ArduPilot project. The way it works is we "label" Pull Requests with the "Top Contribution" label and then on the development call call of the month we collect up the entries and then there's a follow-up vote. If people want to nominate entries for next month, feel free to comment below some time in February.
Thanks to those who donated to ArduPilot including our Corporate Partners. If you are a company and wish to donate a prize for an upcoming month, please email the partners email list (partners@ardupilot.org).
Congratulations Michael!