I have been having issues connecting my Taranis X9Plus to communicate with my Blue Robotics T200 thrusters. I have the Blue Robotics ESC's connected to the thrusters on one end, and the servo signal connected to ports RC5 and RC6 of the autopilot. This was done in hopes of being able to drive our 3D printed catamaran using differential steering, but have not been able to talk to the autopilot to send commands.
I am using a pair of RFD900x radios to establish a connection between my laptop and my pixhawk autopilot. Thus far, I have been able to pair my RFD900x radios successfully to one another (solid green lights), and can connect to Mission Planner via my RFD900x usb connection. My FrSky D4R-II is successfully connected to my Taranis.
The issue I am facing now, is that I am not able to calibrate my radio. The bars in the Radio calibration window are blank, and will not change regardless of the parameters I have set for both the Thrusters servo connections. When I try to calibrate the radio, I get the error window stating "Bad Chanel 1 Input, cancelling".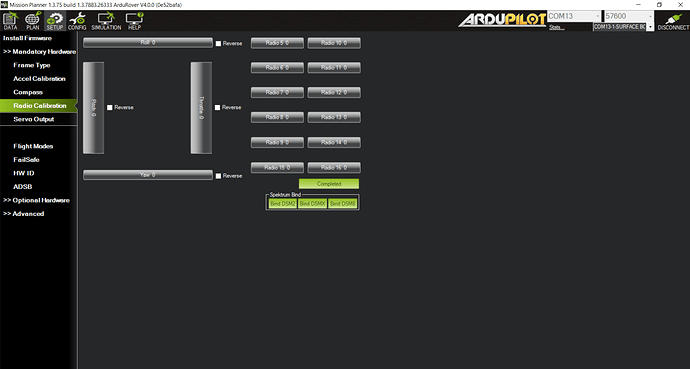 Can someone please help me establish a connection with my boat rover? At this point, I don't know if I am missing parameters, haven't set up my Taranis correctly, or have a bad board. Any advice on how to setup the Taranis controls as well would be greatly appreciated. I have not been able to find anything helpful for my application.
I have setup channels 1 and 3 to do differential steering on the Taranis but can't see the throttle changing on mission planner.
If anyone has any good advice, I would greatly appreciate it!
I have gone ahead and attached drive link with my current params, as well as a few photos showing the setup of the electronics used for this rover.
https://drive.google.com/drive/folders/1Ebgnz7-DQG2rpaRDq8hiRVqtjkZhuaIG?usp=sharing