Hi all !
I did a Roll and Pitch Autotune (not yaw because of a lack of battery capacity ) and here is the PIDs i get :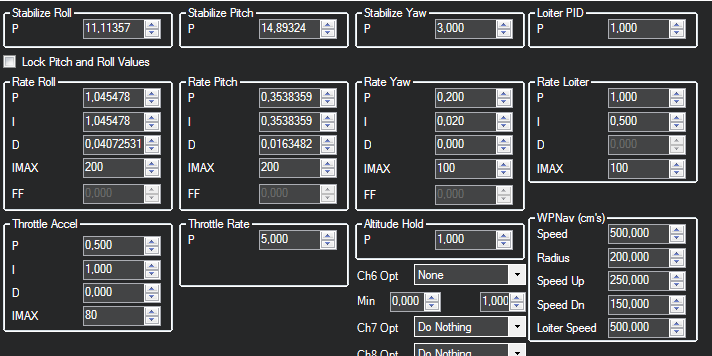 My Quad is pretty big 80x60 cm and the Autotune was on a very unwindy day, less than 2 m/s.
Few days after, for the first flight with the autotuned PIDs, It was quite wobbling so i landed it and put the default PIDs and i way better.
But when i looked at the Logs there was a problem. The Pitch and Roll were stable with the autotuned PIDs according to the Pixhawk whereas with the default PIDs the Pitch and Roll were wobbling in logs. That is excatly of what happenned.
Here is the Log of the Roll for example with autotuned PIDs :

and then with default ones :

There is often "Error compass variance" on my mission planner screen and i suspect that maybe there is one sensor that returns unproper information that causes the quad to wobble with autotuned PIDs, but for me it should be also wobbling with default PIDs.
At home i plugged the pixhawk and saw that Roll and Pitch were stable even with the motor working at 50% without porps ( to see if there was interferences ).
I am pretty lost and wonder if someone can help me