I've spent the day preparing to try 4.2 beta and it's improvements for Optical Flow.
I spent several hours calibrating flow_fyscaler and flow_fxscaler. I'm curious to see the difference the automatic calibration sets for these parameters.
I did some testing in Flowhold to see if the changes improved performance. They did - although in Flowhold, the copter is a bit twitchy - as if the PID's were out of whack.
Looking ahead at the procedure in the docs for the 4.2 optical flow auto calibration - I was wondering if just switching to flow hold would be the same as the parameter changes: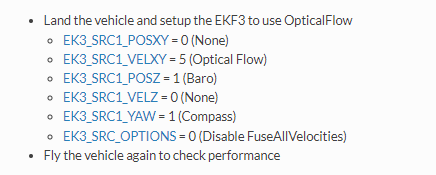 I know that RTL is supposed to work with optical flow, but I've never read that optical flow allows identification of waypoints required for flying in Auto.
If anyone is curious about the performance of my copter in Flowhold versus Loiter - the comparison is in this BIN file: Dropbox - 2022-03-03 15-01-45 flowhold and loiter after manual of calibration.bin - Simplify your life