Hi! I'm about to travel to my favorite testing body of water for a maiden of this boat: https://discuss.ardupilot.org/uploads/default/original/3X/7/4/74518969edcf32b288efa314b025d2a4c3e78de7.jpeg
Last time I tried the follow-me function I couldn't get it to work. Can someone help me through all necessary steps to make the boat follow my kayak? I gave both Mission Planner and QGC on my phone all necessary permissions regarding location, data usage etc.
I think i read that I have to put the boat into Loiter-mode, but then what?
I found this quote on the forum but couldn't locate the checkbox:
Goto the planner setting screen and down the bottom there is a testing screen checkbox. This is control-f
When I go to the setup page, It seems Mission Planner doesn't see any GPS signals?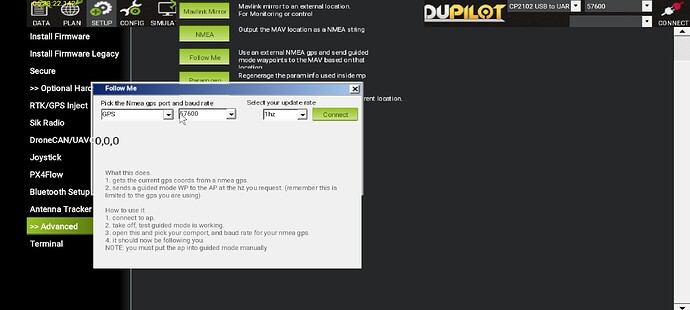 If someone is willing to do a step-by-step explanation I would be very grateful!