Hey everyone,
i have experienced some synchronization issues between JSBSim and ArduPlane SITL, which I would like to discuss here before opening an issue.
I have modified the JSBSim startup code a little in order to have JSBSim create a CSV-logfile on its own (by passing an additional logdirective file via the commandline). When I compare the JSBSim log against ArduPlane logs, it looks like this: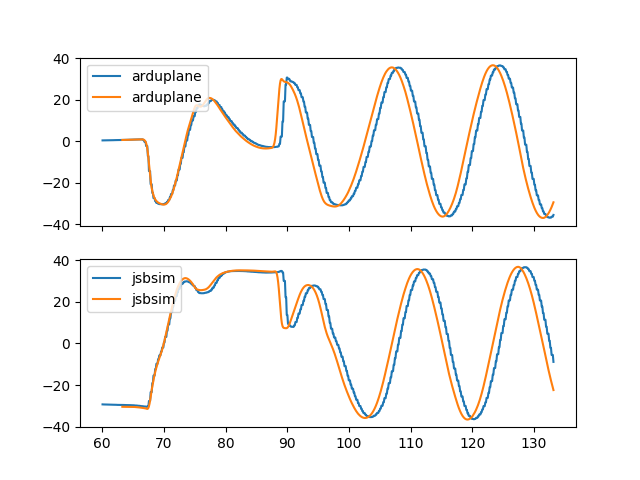 Essentially, there seems to be an increasing time lag in ArduPlane SITL compared to JSBSim simulation time. I have tried this with the old JSBSim version from @tridge as well, and it's even worse than with the latest version shown in the plot.
I looked at the code of how time is kept inside ArduPlane. I figured that it's basically an "open-loop" synchronization: Everytime JSBSim is run ('iterate 1' used to be 'step' in old version), the internal clock is incremented by the frame time. What I find odd is the fact that JSBSim is run in '–realtime' mode which explicitely does not support the 'iterate' command.
I tried to have JSBSim started up in batch/non-realtime mode, which results in a massive slowdown of everything (takes >5 minutes until I can arm the aicraft), which is weird because my CPU is idle most of the time and I would have expected it to run faster than in realtime mode.
So at this point I would like to ask:
Can anyone explain the lock-step mechanism as it is implemented in more detail?
Does anyone know why we start up JSBSim in realtime mode and yet try to have it synced to the ArduPlane SITL application?
Any other ideas / remarks / things I should try?