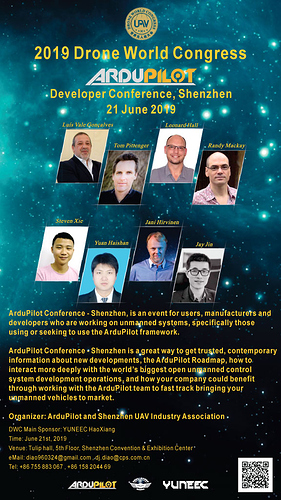 What is ArduPilot Conference - Shenzhen?
ArduPilot Conference - Shenzhen, June 21st 2019, is an event for users, manufacturers, and developers who are working on unmanned systems, specifically those using or seeking to use the ArduPilot framework. Autonomous vehicles using hardware such as Pixhawk (and all variants), Emlid Edge, Kakute, The Cube, and many other controller boards from manufacturers such as jDrones, Drotek, MatekSys, CUAV, mRobotics, RobSense, Holybro, Hex and Emlid are fully compatible with ArduPilot.
ArduPilot Conference - Shenzhen is a great way to get trusted, contemporary information about new developments, the ArduPilot Roadmap, how to interact more deeply with the world's leading and biggest open unmanned control system development operations, and how your company could benefit through working with the ArduPilot team to fast track bringing your unmanned vehicles to market.
Event will be help along with 3rd Drone World Congress 2019 and 4th Shenzhen UAV EXPO
3rd Drone World Congress 2019 Invitation / Schedule