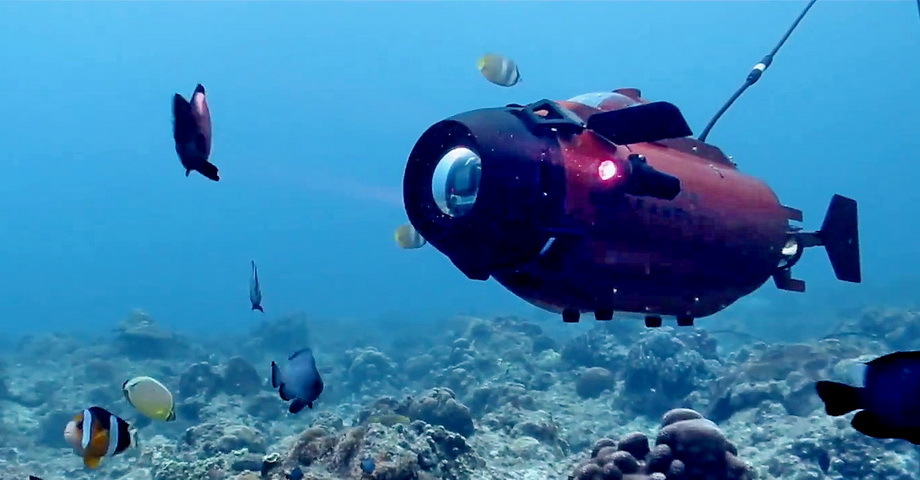 Great CES 17 videos showcasing Ardupilot based Subs from TTRobotics
Image above from this video. There is also this one.
From the description:
The agility and swiftness of the Sea Dragon is unparalleled as its ability to maneuver itself underwater is impressive.
Hydrodynamic Design
With professional hydrodynamic design, SEADRAGON can be freely in the water, underwater hover or free exploration can be easily implemented. The main compartment is airtight and cylindrically designed to protect important electronic equipment from moisture. Built-in huge capacity of battery offers longer run time (external power source as option).
Live 1080p HD Camera
SEADRAGON uses CUDA cores for real time vision and sensor fusion. You can use on-board cameras to do real-time HD video streaming of the underwater adventure.
Ideally Unlimited Control Distance (4G application)
SEADRAGON offers wired or 4G / LTE signal control. Provides end-to-end encryption with mutual certificate-based authentication and Video streaming function from multiple on-board cameras. You can control your SEADRAGON directly from your browser in any location.
Underwater Thruster Designed Specifically for Marine Robotics
Main tank body can adjust the counterweight to different environment of sea and fresh water. The brushless electric thruster system allows SEADRAGON to move quickly and quietly with a maximum forward speed of up to 2 knots.
High Scalability and Programmability
SEADRAGON uses Pixhawk autopilot chip, which can be programmed in Python (w/OpenCV) language. High compatibility and high scalability, you can customize the way you use SEADRAGON and build your own automated applications.