Hi everyone! I'm new to both ArduPilot and the BeagleBone Blue, so I'll apologize in advance for my noob questions and rather lengthy post.
Backstory:
I'm putting together a rather unorthodox plane as my second foray into RC flying, and my first foray into ArduPilot.
(Here's a quick picture I drew up, just so y'all know what I'm talking about:)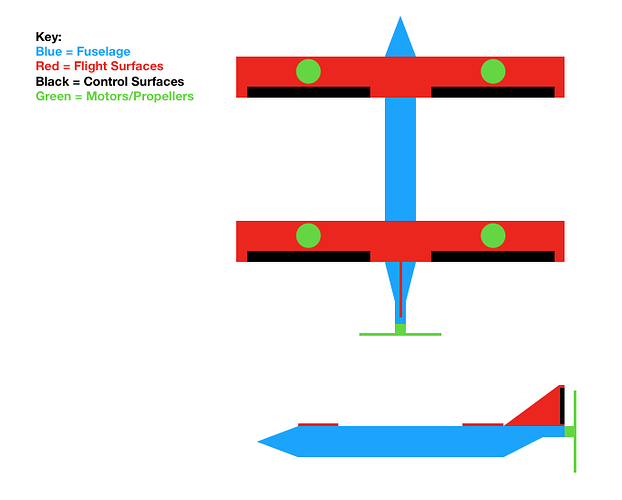 Basically I just repurposed spare parts from my first airplane to make this one, as well as buying quite a bit of new hardware for all the extra features.
My three requirements for the plane are simple, yet complicated at the same time. I need good, stable flight down to quite slow speeds (hence the double-main-wing design for extra lift), I need VTOL/hover capability (hence the quadcopter rotors embedded in the wings), and I need it to be a true airplane, not a quadcopter. Hopefully these three things will make it a very easy plane to learn RC flying on, as I can just go slow/stop outright to give myself more time to react.
Here's my issue though. I can't use Y-harnesses (reducing the number of servos I have to control) on either main wing without losing the ability to run the wing control surfaces in "elevon mode", which is an ability that I want to keep. So, I've got 5 brushless motors (and therefore ESCs) and 5 servos to control. That's a total of 10 devices, and the BeagleBone only has 8 servo outputs… And here we have my problem. Since all problems are best fixed in software

, we arrive at my question.
Question:
Can the 2-pin DC motor output ports (located on the short edge of the board, away from the USB port) be repurposed as additional servo control ports? My understanding is that both types of ports are simply using different flavors of PWM, so I thought repurposing them might be possible. If it is possible to repurpose the ports, could someone point me in the direction of instructions on how to do it?
Thank you all in advance for your help!