Today I made some test flight and the last one almost end on a crash.
I've switched to firmware 4.1.5 and connect RTK again and use barometer as primary altitude source. But with EK3_ALT_M_NSE = 4m instead of the default (2m)
The first flight was a good one, I've make some GUIDED test and land without an issue. (2022-05-11 13-47-35.bin)
I change the battery and take of for another experiment (2022-05-11 13-58-39.bin) this time the copter begin to "jump" again in the air. I land it and change EK3_SRC1_POSZ from 1 (baro) to 3 (GPS). I leave EK3_SRC2_POSZ = 1
After that I reboot the pixhawk and take off again. I've notice some minor jumps so I decide to go to GUIDED mode and made a second test. I have battery failsafe very conservative so in the middle of the test failsafe was triguered. The copter start to descend to land and I've tried to correct the place for landing. But at 4 or 5 mts from the ground the copter stop responding to my commands. I've switched to stabilized mode and reduce de throtle but the copter doesn't descend, It makes some oscillations without loosing altitud, I've commanded 0 throttle and nothing. Then the copter start to climb at a very high speed to a very high altitude. I've manage to get the copter to the ground almost without damage.
Now, I'm looking at the flight log in order to understand what append. I've notice a radio failsafe, but my main concern is the CTUN.Alt, because I can't explain why it estimate -50mts altitude for some time and I think it was the source of the problems.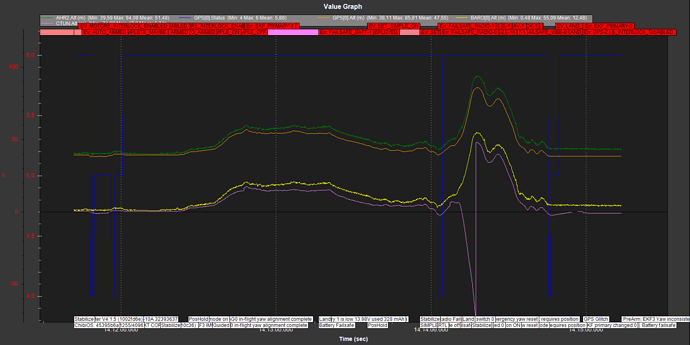 The GPS and Baro report good altitude measurements and AHRS estimate good altitude too.
Can someone help me with this?
https://drive.google.com/drive/folders/1Yp6tptytniRCQs8aU7pCHbPcR-1NxA_L?usp=sharing
thank