Over the last couple of weeks I've been trying to track down an altitude issue I'm seeing in flight (I'm flying an DJI S1000 with a pixhawk with Copter 3.5.2. During some flights the altitude seems to be right on and others it's off by ~10-15 meters (pretty significant given they're between 30 - 50 m HAL). Some of the flights were on really cold days (around 2-3 deg C). Inputting the GND_TEMP param didn't really seem to make a difference. I also noticed the EK2_ALT_M_NSE param had been set to 3 and from what I could tell in the EKF documentation the default value should've been 1. Changing it to 1 also doesn't seem to have had an effect. It doesn't seem to be hardware either as I've tried on two separate autopilots.
The only thing that seems to be correlated is how close the pixhawk home altitude is to truth. As a good example here are some altitude plots made from data captured by an onboard computer on two consecutive flights:
Flight 9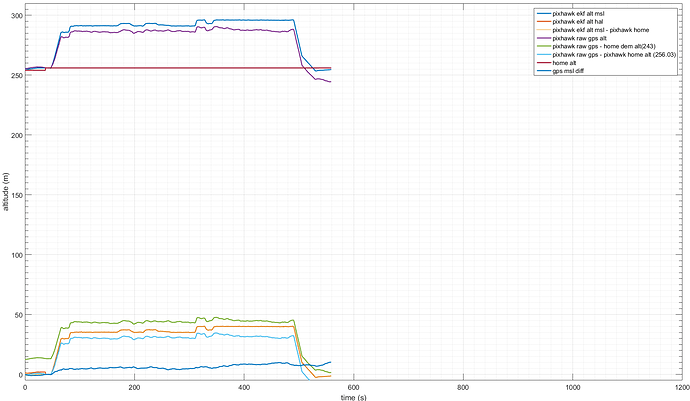 Flight 10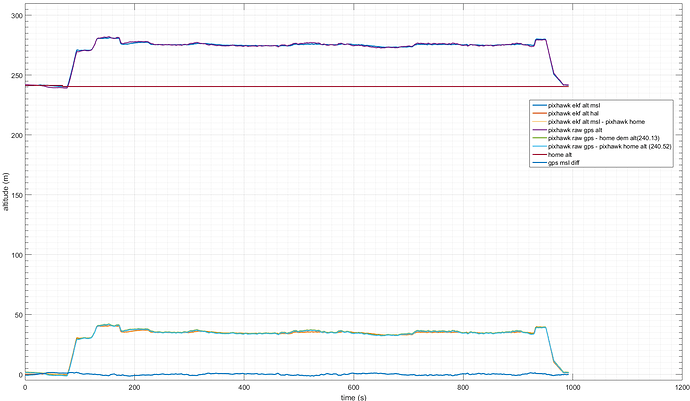 On flight 10, the home altitude reported by Copter was right on with elevation data I have via a DEM. The EKF reported altitude and gps raw altitudes seemed to agree very well.
On the previous flight (which ended about 45 minutes prior to this flight), the Copter reported home alt was about 13 m higher than what the DEM said it should be and there was a fairly substantial altitude offset.
I've combed through a lot of the code dealing with the baro and didn't see anything obvious that would explain this. One theory I had was that have this incorrect GPS altitude on takeoff induced an apparent vertical velocity that made its way into the EKF, but the NKF3.IPD altitude innovations don't seem to support this (they're in general between -.5 and .5 m).
Is it possible that an incorrect home alt could cause the baro reference pressure to be interpreted incorrectly? I'm looking into this now and would appreciate any insights the dev team may have.
The full logs from the autopilot for both flights:
flight 9 log
flight 10 log