Hi there, the flight started with Stabilize mode, we observed strange takeoff which copter wobbled and adjusted its attitude subsequently. It was drifting without pilot command and there was no wind impacting the quad. Then pilot changed the mode to AltHold and it seemed like copter did not respond and suddenly fell down. I have some log pics,
Here I see small difference in RCIN3 aka throttle channel but its in the mid-throttle deadzone which copter must maintain the altitude. Even though its in the mid-throttle deadzone, DAlt is increasing with EKF altitude and meanwhile DCrt is descending first and increasing abruptly?
The most strange thing is EKF altitude actually follow DAlt even there is no such pilot command to descend. In this pic nothing is correct, but for no reason. Please give me insights!


Here is the vibe graph,
Everything seems ok until sudden fell down. I am guessing only reason for this Vibe attack must be a mechnaical failure?


Another graph is CTUN.ThO, Vbat, VibeZ and EKF Altitude, weird throttle channel going up and down very quickly with the Vibe attack. Simultaneously, I see Vbat jumping +0.7V.
First, Is it ok to drop to 10V level for 3S battery during flight?
Second, could it be one of the motor/esc stopped working and it actually increases the vibration. Sharp increase in Vbat made me think that.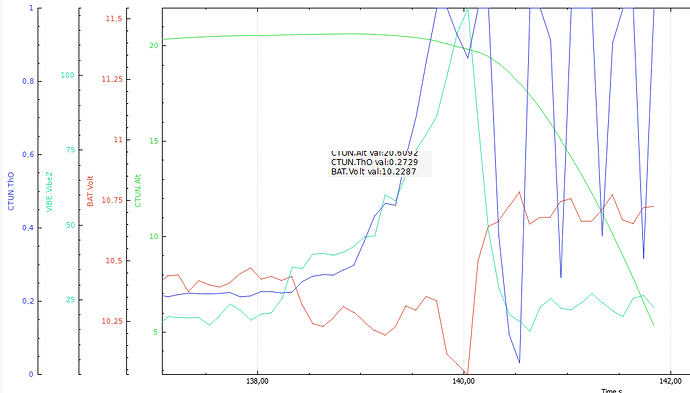 I attached the logs, need your valuable help. Thanks in advance!
2020-04-10 17-40-16.bin (444 KB)