Hi guys, I have an issue with air speed sensor, I read the documentation about the calibration, but in the fist , before the calibration, I don't have any readings coming from MS4525DO, then I try to calibrate result is same.
I connect TELEM4/I2C port and I2Ca in HolyBro Durandal, but I cannot read any data. It show me always 0.0 m/s.
And ofcourse I read all the topics that opened here, but my problem was not solved that's why I opened that issue.
here is my parameters:
ARSPD_AUTOCAL,0
ARSPD_BUS,1
ARSPD_FBW_MAX,25
ARSPD_FBW_MIN,5
ARSPD_OFFSET,0
ARSPD_OPTIONS,0
ARSPD_PIN,65
ARSPD_PRIMARY,0
ARSPD_PSI_RANGE,1
ARSPD_RATIO,1.9936
ARSPD_SKIP_CAL,0
ARSPD_TUBE_ORDER,0
ARSPD_TYPE,1
ARSPD_USE,1
ARSPD_WIND_MAX,8
ARSPD_WIND_WARN,0
ARSPD2_TYPE,0

Mission Planner shows me that issue when I try to calibrate: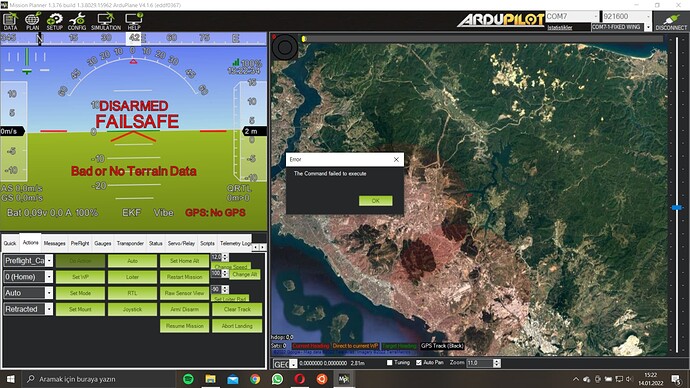 I did this calibration in different flight modes also, and I changed many times parameters with different value, didn't work.
Thanks in advance, I am new here.