Hi there, are you looking for a transducer for your autonomous boat that doesn't cost thousands of dollars? So was I. This is how I set up the $300 Airmar DST800 triducer. Hopefully you find this helpful

setup:
-mission planner 1.3.62.1 build 1.3.62.1 ArduRover V3.4.2
-airmar dst800 triducer (nmea 0183 version) http://www.airmar.com/uploads/brochures/dst800.pdf
-pixhawk px4
-rs-485 to ttl converter (any one with MAX485 chipset will do but this is the one i used) https://www.amazon.ca/MAX485CSA-Converter-Integrated-Circuits-Products/dp/B06W9H64TN/ref=sr_1_fkmrnull_1?keywords=rs485+to+ttl+lc&qid=1552083892&s=gateway&sr=8-1-fkmrnull
Wiring: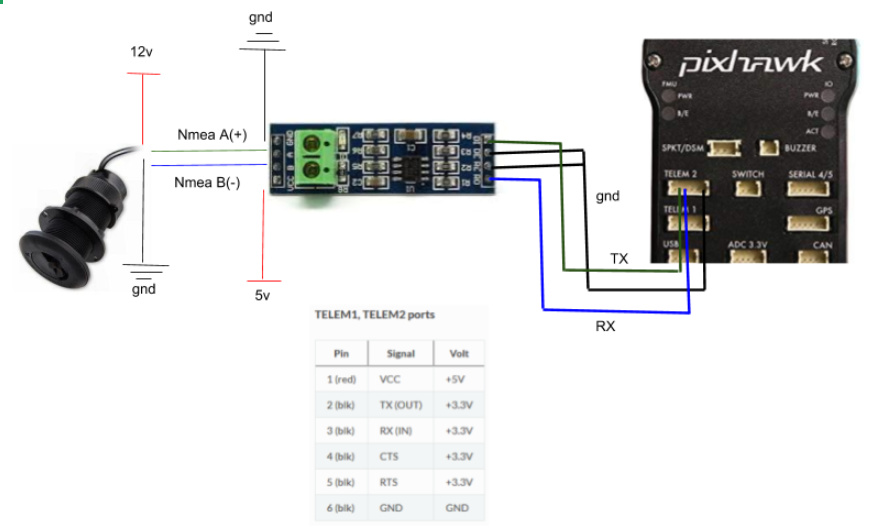 Mission Planner Parameters:
RNGFND_MAXCM = 700
RNGFND_MIN_CM = 50
RNGFND_ORIENT = 25
RNDFND_TYPE = 17
SERIAL2_PROTOCOL = 9
SERIAL2_BAUD = 4
Troubleshooting:
I used a rs-485 to USB converter to plug into my computer. to view the NMEA messages simply open putty (windows), select the appropriate com port (you can check in device manager on windows) and select 4800 baud rate. You may need to swap around the NMEA A and B cables to get it to work. You can google a NMEA 0183 sentence guide to decode the message.
I hope this helped, best of luck
Evan