All,
My goal is to use the Aerotenna uLanding-C1 for the purpose of maintaining AGL and improving landing performance.
Current Configuration:
Pixhawk 2.1: ArduPlane V3.8.0
GCS: Mission Planner 1.3.49 build 1.1.6410.20232
Altimeter: Aerotenna uLanding-C1 (Serial)
I have the uLanding connected to Serial4 (GPS2) of the Pixhawk 2.1.
SERIAL4_PROTOCOL: 12 (uLanding Parameter value)
SERIAL4_BAUD: 115 (uLanding default Baud Rate)
The only parameter I have changed regarding the range-finder functionality is:
RNGFND_TYPE: 11 (uLanding Parameter value)
I have tried adjusting various values related to the upper and lower bounds, but none have seemed to affect readout. See below.
Unexpected Behavior:
Upon connecting Mission Planner to the Pixhawk, SonarRange reads "0". If I move the altimeter around, 1-3 three similar windows open (??), and the SonarRange value is populated. In most cases, a value of 6.35 (cm) is displayed regardless of orientation and obstructions before the altimeter. On occasion, sporadic (erroneous) values are displayed.
I was hoping someone with a similar configuration utilizing the uLanding might give advice on the proper configuration (parameters) or known issues with my configuration.
Current theories:
PH2.1 cannot sustain 115 kbaud on Serial4? When I tried lowering to 9600 baud, the value reset itself to 115 kbaud on next startup and connect cycle.
Some parameter related to the abundance of laser analog/PWM altimeters is interfering with the value?
See below for an example of the issue (including mystery window) and a copy of my parameters.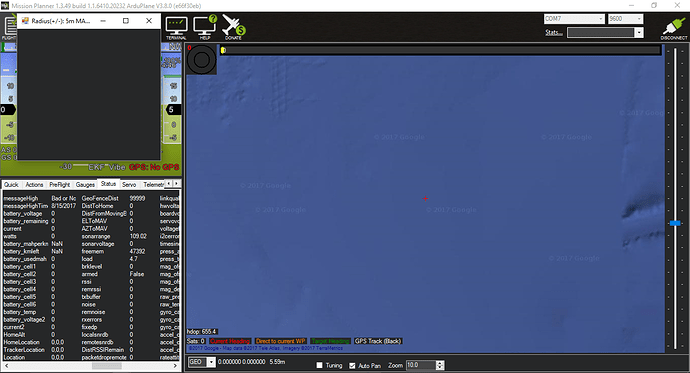 ForumExport.param (14.0 KB)