Hi all,
I'm working from few days on my pid, it's better but when I looked my lof I'm not totally satisfied, I've tried lot of tune but this is always the same.
In CTUN if I graph DAlt and Alt I'm not statisfied. The Alt graph it's not linear enough for me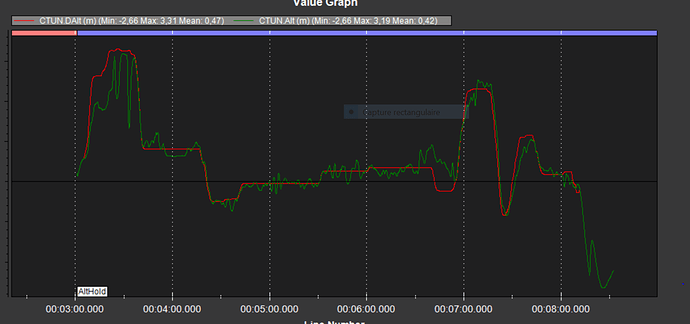 I've tried to change P&I for pitch/roll rate but (I lowered the values) but I always have oscillations as you can see above (this screenshot is the best tune I have). I've always leave the same value for P&I in ATC_RAT_PIT_I and ATC_RAT_PIT_P ATC_RAT_RLL_I ATC_RAT_RLL_P as it was recommended to me on the forum.
I'am not satisfed also with ATT.DesRoll and ATT.Roll.
Here is my bin file : here
I have an Hexacopter 7inches props, 3 batteries 4s Lipo, Orange Cube and the weight approximately 2,3Kg. I want to have a better setting before to run an AutoTune