CUAV from Shenzhen, China, has newly developed a new Pix codenamed V5. It will start a global public test recently. The following are known materials: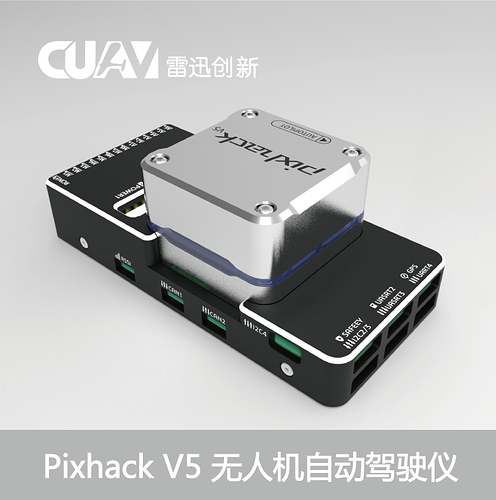 Quick Summary
•Main FMU Processor: STM32F765◦32 Bit Arm® Cortex®-M7, 216MHz, 2MB memory, 512KB RAM
•IO Processor: STM32F100◦32 Bit Arm® Cortex®-M3, 24MHz, 8KB SRAM
•On-board sensors:
◦Accel/Gyro: ICM-20689
◦Accel/Gyro: BMI055
◦Magnetometer: IST8310
◦Barometer: MS5611
•Interfaces:
◦8-14 PWM outputs (6 from IO, 8 from FMU)
◦3 dedicated PWM/Capture inputs on FMU
◦Dedicated R/C input for CPPM
◦Dedicated R/C input for Spektrum / DSM and S.Bus with analog / PWM RSSI input
◦Dedicated S.Bus servo output
◦5 general purpose serial ports
◦4 I2C ports
◦4 SPI buses
◦Up to 2 CANBuses for dual CAN with serial ESC
◦Analog inputs for voltage / current of 2 batteries
•Power System:◦Power: 4.3~5.4V
◦USB Input: 4.75~5.25V
◦Servo Rail Input: 0~36V
•Weight and Dimensions:◦Weight: 90g
◦Dimensions: 44x84x12mm
•Other Characteristics:◦Operating temperature: -20 ~ 80°c
It is known to use the F765 processor and many other upgrade updates. But I don't know if the current Ardupilot firmware supports it or not. I'm going to use a traditional helicopter to test this flight control. I need to ask whether AC 3.6rc1 FW supports this.