Hello, guys
I came up with an idea of developing a boat for river navigation. The idea is to have a vessel where it can controls itself on the middle of a river. There would be no forward propulsion, since the idea is to operate only downriver, so the speed of the vessel would be equal to the river current.
I'll show you a drawing of the setup that I came up with: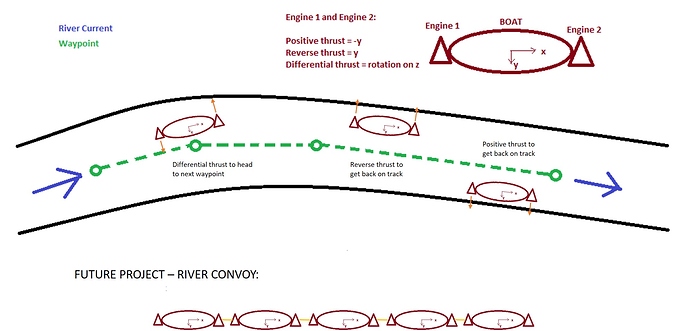 I have a pretty solid experience with ardupilot on multirotors and fixed wings, but it's the first time dealing with boats.
I read a lot about boats setup and I understood that there is only 2 possible configurations: Skid steering or Vectored thrust. And also that the boat doesn't correct itself if it drifts from the track between two waypoints.
On my idea, the skid steering would work on the same way as it is for yaw motion, but for throttle it expects to move forward or backwards, not sideways.
Does anyone have an idea on how to make the autopilot understand that thrust will result on a sideway motion and that it needs to maintain the waypoints track?
I'll appreciate any help or suggestion on this project. Thank you very much!