Not sure if this belongs in another category so sorry in advance if this is the wrong spot. I have been working on swapping a new pixhawk 2.1 on my DJI S1000+. I have been flying it for over a year and arducopter/pixhawk has been great! I have always used autotune and it has worked out very good. I always tune one axis at a time and then save the parameters and continue to the next axis till done.
Now that I have tested my new pixhawk 2.1 setup I have been trying to autotune the roll, pitch, and yaw. I am starting with the yaw first and after about 5 minutes it finishes. The results are not that great but it is an improvement from the basic PIDs, however whenever I tune roll or pitch (i uncheck lock roll/pitch as I autotune them separately) I seem to get some weird results from what I am use to seeing. I thought it might be because a lot has seem to change from the 3.4 rc1 i used for so long to 3.4.3 or going from the original pixhawk to the pixhawk 2.1. After roll or pitch is autotuned as soon as i get off the ground it vibrates slightly but quickly. I have tried this a few times and the results are the same and autotune comes up with similar results. I have to takeoff quickly or it appears that the octocopter may tip. Since I save the parameters after each axis tune I went back to just the saved parameters after Yaw (untuned pitch and roll) and the quick vibration is gone. There was also no finishing tone from the buzzer when the autotune was completed.
This are the results I got from the pixhawk on 3.4 rc1 on the S1000+ (my last saved .param file after autotune)
ATC_ACCEL_P_MAX,59530.05
ATC_ACCEL_R_MAX,48122.94
ATC_ACCEL_Y_MAX,11570.42
ATC_ANG_PIT_P,8.291903
ATC_ANG_RLL_P,5.207353
ATC_ANG_YAW_P,4.43052
ATC_ANGLE_BOOST,1
ATC_RAT_PIT_D,0.01235184
ATC_RAT_PIT_FILT,20
ATC_RAT_PIT_I,0.17482
ATC_RAT_PIT_IMAX,0.444
ATC_RAT_PIT_P,0.17482
ATC_RAT_RLL_D,0.01619052
ATC_RAT_RLL_FILT,20
ATC_RAT_RLL_I,0.17482
ATC_RAT_RLL_IMAX,0.444
ATC_RAT_RLL_P,0.17482
ATC_RAT_YAW_D,0
ATC_RAT_YAW_FILT,5
ATC_RAT_YAW_I,0.1751279
ATC_RAT_YAW_IMAX,0.222
ATC_RAT_YAW_P,1.751279
ATC_RATE_FF_ENAB,1
ATC_SLEW_YAW,1000
AUTOTUNE_AGGR,0.07
AUTOTUNE_AXES,7
AUTOTUNE_MIN_D,0.001
Here is what I got with the yaw autotune
ATC_ACCEL_Y_MAX,27000
ATC_ANG_YAW_P,5.983694
ATC_RAT_YAW_D,0
ATC_RAT_YAW_FILT,5
ATC_RAT_YAW_I,0.1872228
ATC_RAT_YAW_IMAX,0.222
ATC_RAT_YAW_P,1.872228
ATC_RATE_FF_ENAB,1
ATC_SLEW_YAW,6000
And here is the roll autotune (some of the parameters are very close but some are very different)
ATC_ACCEL_R_MAX,110000
ATC_ANG_RLL_P,12.43967
ATC_RAT_RLL_D,0.01860433
ATC_RAT_RLL_FILT,20
ATC_RAT_RLL_I,0.4764247
ATC_RAT_RLL_IMAX,0.444
ATC_RAT_RLL_P,0.4764247
I have never had to adjust loiter or alt hold tuning after autotuning all three axis but loiter is pretty bad after tunning either pitch or roll. Is there something that has changed or am missing? Can I use the previous PID from 3.4 rc1 on my original pixhawk on 3.4.3 with the pixhawk 2.1? If so, will autotuning with these values to start help fine tune it?
Here is the log after autotune on yaw
https://drive.google.com/open?id=0B5vwo36WQS__empZUENRMEJSSjA
Here is the log after autotune on roll
https://drive.google.com/open?id=0B5vwo36WQS__N1VxeVBGQUtmZGc
Here is the log where i was going to test after yaw and roll were autotuned but i noticed the bad vibrations before I even took off. I never left the ground and decided to reload the parameters from after doing the yaw tune to get rid off the roll parameters. You can see that the vibrations spike even thought it never flew once the motors were spinning.
https://drive.google.com/open?id=0B5vwo36WQS__MFljYkpXOV9QejA
This last log was with just the yaw tune parameters and stock roll and pitch with a short grid mission. It was low with tight spacing so I think that it made the turns between lines really weird.
https://drive.google.com/open?id=0B5vwo36WQS__VFVrcWp5SnF6eFk
I have the flight controller mounted exactly the same way as before and vibrations seem to be good, never really had an issue. Its attached to the frame the battery mounts too supported by 12 isolators (Just like any other S10000+) ad all wires are secure and I have made sure the battery does not touch or rub against it when inserted. There is also a plate underneath to try and prevent prop wash when landing and disturbances from wind gust. I have attached a picture although it may be hard to see.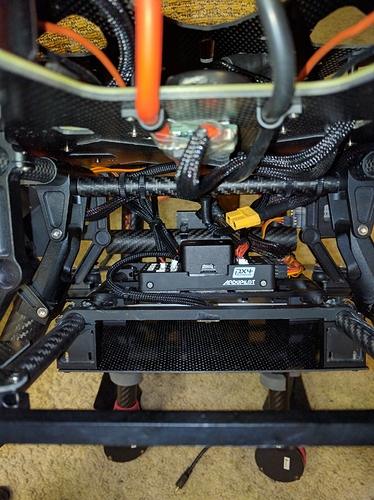 I am also seeing err:CPU-0 and err:CPU-1 errors in my logs that I have never seen before. Any help on autotuning this would be greatly appreciated!
Nick.