Hi everyone!
I'm getting ready to conduct my maiden flight of a 12kg MTOW quad.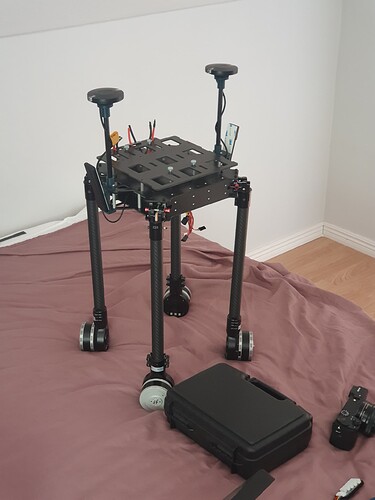 I'm using a cube orange, two HERE 3, Herelink, TF02 pro lidar, T-motor MN605-S standard arm set on 6s lipo (Alpha 60A LV ESC).
I'm planning on flying 2-3 10000mah 6s lipo.
Propeller size is 22 inch.
To everyone out there who has some more experience regarding setup and tuning of these mid size to large multirotor. Do you have any advice or something that's easy to miss before the first flight?
I'm planning on doing a first flight to try and get some hover throttle values. Than go on and tune my filters. I know I have to enable the fft but there was some other mask parameter to chose between logging filtered or un filtered values, right?
Parameterfile: Before first flight
https://drive.google.com/file/d/1vMPL_OJ39p9MPIVUaZ6UH8bnY8EjNMc3/view?usp=sharing
Thanks!