Hi,
I am in the process of tuning a ~180kg thrust drone that has an asymmetric octa-v frame and 30" props with a frame layout that looks like this (each "m" is a coaxial pair):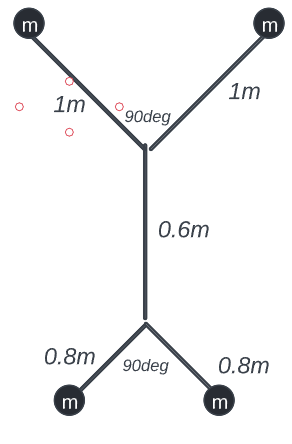 With max payload, the drone is around 125kg.
I selected the "Octo Quad V" frame in Ardupilot config (via QGroundControl), but there are not direct inputs for the geometry parameters regarding motor location. This is potentially concerning given the oblong shape of the frame. I have followed this process in the documentation to set up safe parameters, which are mostly a function of the prop size (not the frame geometry). Before my first flights, are there any other controller parameters you'd recommend I change to initial test values?
One other issue I'm having is after testing the motors without props, I frequently get overcurrent shutdowns (>350A detected) in my Hobbywing 200A ESCs if PWM exceeds about 1600. I have set the MOT_PWM_MAX to 1550 and do not see any shutdowns, with nominal/moderate motor heat-up after several minutes of testing full to no throttle (i.e. up to 1600 PWM, not 2000). ESC isn't warm at all, indicating this may be a relatively transient spike (although according to the manual the ESC does a rapid shutdown, activate, and then permanent shutdown if it sees the current twice which is happening here). Therefore, I do not suspect any short circuits or similar issues since it runs fine at lower duty cycles. I'm using a fully charged 12S pack (~51V) and a T-Motor V10L KV170 motor for each circuit. According to the limited manufacturer data, 200A is reached at full load (30" props) at 100% duty cycle. Why would I be hitting 350A transients with no props closer to 60% cycle? Issue with too high RPMs of the unloaded motors causing a back EMF issue? Rapid inertia M*A acceleration of the rotor causing a load (seems unlikely)? Thanks!