Hello, I got a really weird "crash" today and could use some help with the log. The background is as follows:
Typical mapping mission on a plane running latest Arduplane V3.8.2 on a windy day. I have enabled crash detection with a threshold of 25.
Took off in AUTO and performed fine until a few minutes into the flight I got a message on Mission Planner informing me of a crash detection and disarmed motor. I armed again on MP and put the plane back in AUTO. After a short while, I decided to bring it back down. I sent it downwind in GUIDED, manually selected the waypoint before landing and put it back in AUTO. I watched it coming in but suddenly, at a moderate altitude (~50 metres or so by eyeballing it) MP shouted that the motor had disarmed again. I rushed back to the laptop and tried to re-arm but got nothing in response. With no motor, fighting a strong headwind, all I could do was put it in STABILIZE and watch from a distance as the plane glided with almost zero forward groundspeed into short trees and bushes. The craft suffered no damage.
I was quite surprised by two things:
1 - The triggering of the crash detection
2 - the failure to arm the second time I tried.
By looking at the log, IMU.AccX, IMU.AccY and IMU.AccZ I see a spike reaching 50 very early on. This is likely the plane rolling off a low table while being prepared and had nothing to do with the flight. Now, at around 10 minutes, I see an IMU.AccX spike reaching 5 roughly at the same time as a "Throttle disarmed" message.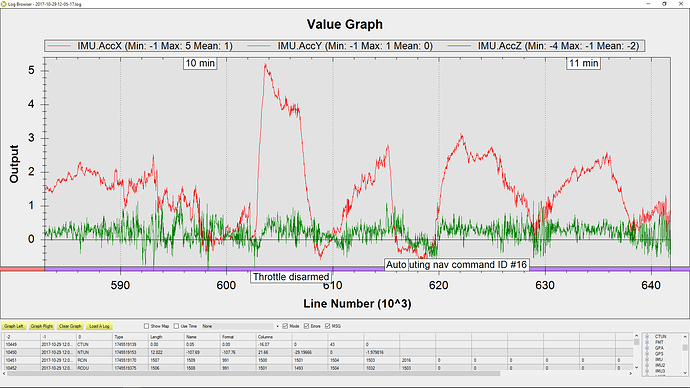 Now, what are the units here? The IMU.AccZ value seems to be hovering more or less around -10 so I 'm presuming they are metres per second square, something which seems to be corroborated by the documentation for CRASH_ACC_THRESH. If this is indeed the location in the log where I got my crash trigger, could it be that there is a unit mix up?
P.S. I cannot seem to upload my .bin file. The Upload percentage indicator goes up, then drops back to zero and the process repeats a few times, then finally it says "Saved" but I see no uploaded file.