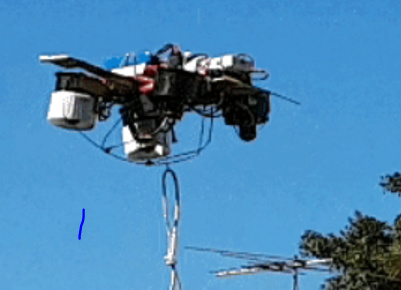 Hi All,
My 'flying brick' has had a number of successful flights and has almost successfully transitioned, but I have now run into some programming problems I hope someone can help me with. It is using the Tiltrotor code but I have added to it the capability of elevator and aileron control via the tilt motors when transitioning and forward flight. This code worked well for a couple of months but when trying to do a recent update the wheels fell off. The pitch tilt servos began to output only ~20% of range for no apparent reason. I have since downloaded the latest Arduplane (24 May) but have not been unable to get back to where I previously was.
The original Aurduplane code was downloaded January and from there I added independent front tilt servos:
SRV_Channel.h
k_tiltMotorLeftFront = 89,
k_tiltMotorRightFront = 90,
SRV_Channel_Aux.cpp
case k_tiltMotorLeft:
case k_tiltMotorRight:
case k_tiltMotorLeftFront:
case k_tiltMotorRightFront:
In Tiltrotor I have duplicated the outputs configured to the front servos and it worked well for a while, however when I make other code changes the front servos range reduces to ~20% of original.
The other problem I am having incorporating in the new code is adding parameters. I had succeeded previously but am now failing miserably. The code compiles but it crashes the Pixhawk 2.4.8.
Quadplane.h under // tiltrotor control variables
AP_Float r_aileron_gain;
AP_Float r_elevator_gain;
Quadplane.cpp added to AP_Param::GroupInfo QuadPlane::var_info2[] = {
AP_GROUPINFO("R_AILERON_GAIN", 3, QuadPlane, tilt.r_aileron_gain, 0),
AP_GROUPINFO("R_ELEVATOR_GAIN", 4, QuadPlane, tilt.r_elevator_gain, 0),
I would appreciate some help so I can move forward with this project.
Cheers, Ray