Found info on the Scout SV2470

If this is it then I'll probably grab a few more 2450GPS models. Target has them for $99.
I had been watching the launch of the new Ryze Tello drone. Nice collaboration between Ryze tech, DJI and Intel. At $99 dollars it will probably do very well especially with a collision avoidance system. But I would still go with a V2450GPS over it. Would like to see SVGPS for this year to have a larger Pro version with brushless motors. I can extend the legs and add a 1080p camera.
Does this new lineup indicate a reduced interest in GPS? GPS and waypoint mission control is my greatest interest. I echo the request from DUDE. Lets see a 2450 GPS with brushless motors and increased battery life to allow longer, more reliable autonomous missions.
You have a really good point. Not having GPS is a loss, but it does make
sense from the toy company's point of view.
#1 GPS chips are expensive and prone to issues and interference.
#2 Optical Flow has the ability to drive pinpoint stability even when up
high AND indoors!
#3 probably a large majority of those buying the 2450gps don't use it for
long range missions…or anything not preprogrammed on the parameters set!
#4 with Skyrocket clearly replacing their entire line with new branding,
including having AP built in, you can expect there will probably be a new
Pro model that will bring back all the awesome of the GPS, plus hopefully
adding optical Flow, 1080p camera, better FPS and more…and of course for
a more appropriate cost. And maybe they'll create a Pro App too, that more
complements the features of AP
#5 while the 2450GPS has been incredibly well liked, received, and praised
(Toy of the year nomination) it also probably hasn't made Skyrocket a lot
of money. The price has already dropped a LOT do you know they are losing
money on it. The GPS chips alone in this thing costs like $50 I think.
I'll stop with 5 because all good arguments have 5 points. LoL
Yes, it will be a big loss. I don't really understand indoor drone flying. Certainly, not in a house with a wife and decorator like mine. Maybe with a nano with blade guards but what's the point? Certainly not hi-res
photography. Even in the barn, there are too many things in the way of enjoyable flights. Now that I have worked out the intricacies of geo-fence and and RTL, I am able to fly confidently on my 10 acres. Auto take off and land is not the same as RTL which is return to launch, a GPS function. A nice addition to the video capability would be some form of image stabilization along with 1080P.
I'm not sure about the issues with GPS. My experience has been that GPS is much less of a problem than the accelerometers. I have often had to recalibrate the accelerometers to fix drift problems. GPS stability has been great. Using Pos_hold, the Sky-Viper will hold it's position ind winds strong enough to blow my hat off. It will pitch over very dramatically into the wind and stay in place. It will twitch a little to counter the gusts but as long as the battery last, she will stay put.
I have a strong faith in the reliability of GPS going back almost 20 years. Early GPS had some accuracy issues, but with the advent of Differential GPS and more satellites, I installed it on my sailboat and used it to navigate from the Chesapeake Bay to and throughout The Bahamas for 10 years. The longest fully autonomous passage that I made was 98 nautical miles, from West Palm Beach in Florida to Great Sale Cay in the Abacos, crossing the Gulf Stream and entering the Bahama Banks relying totally on the Autopilot as I just sat and watched, hands off for about 20 hours. I made that trip several times, but usually had to take control or alter course to avoid ships in the Gulf Stream.
I don't expect a Skyviper to fly 100 miles but I do get a kick from autonomous missions.
If you look at 3:35 on the YouTube vid, just as it fades out there is another controller and a bigger SV box. Can't make out the name on it. Body is white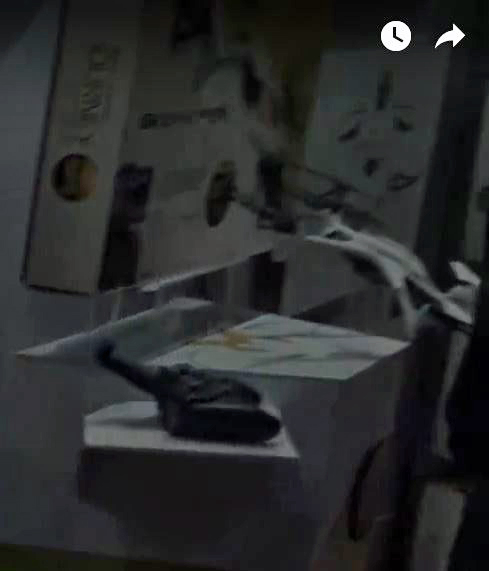 Yeah I know. I've tried my best to figure it out. That frame looks wicked. Wish @Matt_Morton or @tridge would give us some hints.
I even wrote to the person who made the video to see if they remembered what it says
Not trying to obsess just curious. @3:15- Former GPS? Auto Pilot Stage 1 is interesting. I see the code is in our models for OGT. I'm curious if an OGT module can be added or if it needs the upgraded 1080p camera board to function. I need to grab another GPS model or two just for fun.


Scott, I think you had a pic of IO ports but cannot locate. Was there a 12C input on the SV board? This isn't a pic of the SV board but it shows how a op flow board connects to a pixhawk.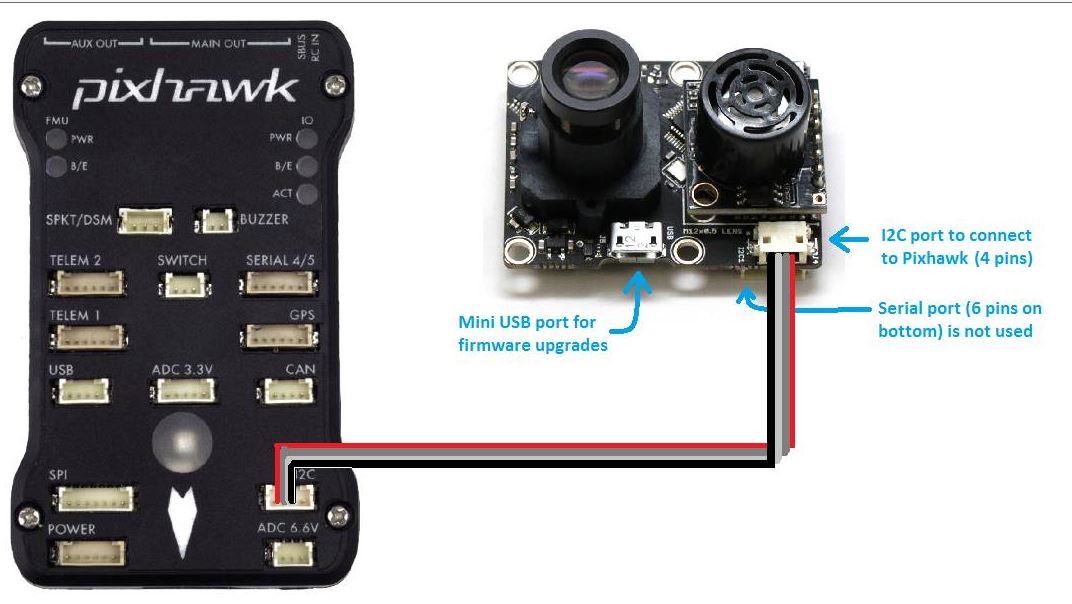 I ended up grabbing a Tello b/c I had a $25 discount. Great little quad. Even though it's not GPS, optical flow sensors make it super stable. Still images are great, and video is decent except for some frame skipping b/c of no onboard microSD -you can only record video on your phone. Still much better video quality than the v2450. But because it's not GPS, max altitude is limited to 10m by default and 30m with a third party app.
So, I've started using my Tello for videos and stills (and programming via DroneBlocks), but still using the trusty v2450 GPS when I want good height and range. It appears the new SV lineup includes optical flow sensors, so it'll be interesting to see if that helps with stability on their new stunt drone (Fury) and streaming drone (Scout).
I see the Fury is in stock at my local Walmart
Wait have you changed the camera on a 2900 pro?
Sadly the first review is not so positive.
JUNK
Average rating:1out of5stars, based on0reviews
tried 2 different ones and they both failed within 4 or 5 flights

I'm a little skeptical of that review, as it's dated May 29th. To my knowledge, they weren't even in stores then. Perhaps they're referring to a different drone, or they're competitors just trying to put out negative reviews.
It's showing as in stock at my local walmart, and I want to buy one just to try it out, but I can't really justify it since I ordered an e1700 from Amazon (only $18) that's arriving today. But if anyone gets one, please post a review. Really interested to see how good the new surface scan tech is with the optical flow sensors. The sensors on my Ryze/DJI Tello are amazing.
Ha good point. I probably won't get a fury, since it doesn't have the sonix board, which means no ability to upload new flight firmware, unless they made a way, but don't see it in the code. I think the Scout is going to be awesome. No GPS but has indoor stability and camera and ability to upgrade firmware.
Yes, and I noticed the prop gear spare part for both v2450 is gone from the list. Target has quit listing the GPS model on their site and Amazon went back up to $69. Oh well.
Yeah, I imagine Amazon was trying to price match Target, but now that Target's not listing it anymore, they're back to price matching Walmart.