Good luck
then share with Us too
I will and thanks for your help
Hey Marty the Skydroid app has a record function built in if your looking to record the flight video.
Click on the video window to bring up the UVC video…assuming your UVC is connected.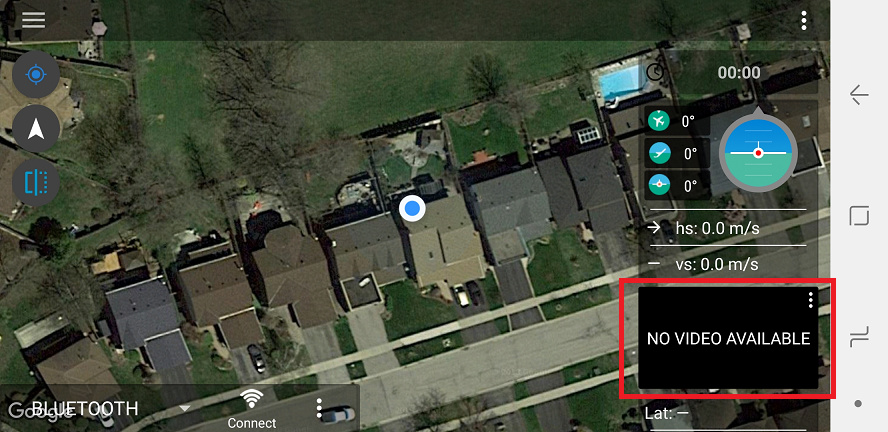 then click the record button

If your looking to record the screen as a video you can install DU Recorder, it's free and works pretty good.
Have fun…ps my UVC wasn't plugged in when I did this lol
ile give it a go as need the waypoints and distance in the video and thank you ive got untill the end of the year and thanks for this
I forgot to send that one a coulpe of hrs ago tried the DU Recorder and seams to work also there is a video editor so im a happy happy bunny I wont need to buy you and Cala a whisky or 2 ile need to buy you a distillery
Ricky,
Cala2 had mentioned that he was using QGC for the VTOL support so I was on a similar UVC fact finding mission and found your summary here. I thought I would post it for others. It might make a good entry into the manual FAQ.
Also, I want to make sure that these references are equivalent.
Skydroid App > Yunzhuo Ground Station > Tower 4.0 Modified app
Cheers!
Greg if you go back on here there is a 4.4 modified version ive just been out in the freezing cold and done a few flights every thing is working good now to warm up
So here are my observations updated.
On Android.
UVC video works in a version of Skydroid Tower version (Yunzhuo Ground Station)
UVC video is a no go on qGroundControl. Not recognized
UVC video is a no go on 3DR Tower (Crashes)
UVC Video is a no go on Mission Maker (Crashes)
Windows 10
UVC works on Mission Planner.
UVC works on Qgroundcontrol. Requires selection of the video source and then restart it.
FYI… someone opened an issue on this. I chimed in on the thread of my similar experience and @DonLakeFlyer is looking into it. Hopefully he'll get this resolved.
Update: According to this, the Daily Build as this resolved. Not sure how to implement it but maybe @DonLakeFlyer can point us to the right direction. Or someone here would know how.
The fix you are referring to is for connecting ChibiOS boards on Android. UVC on Android support varies based on device. Some work some don't. We don't have much/any control over that since we rely on third party code for the support.
Thank you DonLakeFlyer after ive had some food ile give my UVC a try and report back
At the moment it appears that the FUAV version of UVC receiver is not seen by what ever driver system that QGroundcontrol application uses to view the video. So for now we are out of luck which sucks because Qgroundcontrol is awesome.
Don already looked into the issue and has no fix for it as it's more system related and not app. Sadness
What I don't understand is why other apps see the UVC receiver.
Yea just tried and no luck,wounder if Cao could work his magic after CNY on QGround Control time will tell
Most likely because they are a native Android application that uses the Android apis directly. Whereas QGC is a C++ application which uses the Qt library to run on Android. If anyone wants to send me a UVC device which does not work I could take a look (PM me). But it's likely not fixable.
I have opened a bug report on Github and will offer up a UVC receiver for Don to experiment with should he need one.
that is so kind of you lets hope he can do something this thread just keeps getting better
This thread is loooong. Can somebody give a recap on this long range system?
Ricky or Cala will be along soon but the M12 system is a very good bit of kit highly recommended you wont be disappointed
Hey there.
I can give you a simple recap.
Quanzhou Yunzhuo Electronic Technology Co., Ltd. developed a handheld data link system for Drones. They provide this type of technology for commercial use in say the agricultural space in china.
They recently made a unit available to people outside China via aliexpress call the Skydroid M12L
This unit isn't like a regular RC system such as a Taranis. It acts as a data link between the UAV and the user on the ground. While it has a lot of the traditional RC type interface, throttle, yaw, roll and pitch as well as a series of switches and buttons. It's main purpose is the up down link.
To do this it has a handheld unit and an air unit. The air unit is similar to a standard RC system but it has a telemetry in that allows data from teh flight controller to be routed back to the handheld unit. The unit also has a bluetooth system that allows the user to connect a tablet or phone and run a number of the popular groundstation apps like Qgroundcontrol and Tower as well as Mission planner.
The manufacturer claims a distance of 60km…uninterrupted airspace…no tree and such. Their test was out over the sea. This community however has easily demonstrated 17km with and RSSI above 90%. This was done both as a rover and as an aircraft so its range easily out performs a taranis and requires no booster.
The handheld unit is a dual antenna system that allows the user to mix directional and non directional antennas to boot performance. Users today as just now looking at doing so.
The manufacture also has a 5.8ghz video receiver that can augment the experience by allowing a video overlay much the same as a Mavic or other such DJI product,
Laslty the manufacturer has developed systems that have HD video integrated into the handheld however they are not available outside the country as yet.
If you need to know more just ask. We are all liking the system so far and would be happy to answer your questions.