Out of curiosity have you calibrated the ESCs?
Yes sorry should have stated that. After the complete reset I have gone through and set up the hex, running through each of the calibrations. I have done the ESC calibration a couple of times to be certain. I have also tried Normal ESC and OneShot125, recalibrating after each change.
For one thing, your power system is all wrong.
I've been down this road with a 680 Pro.
The optimum configuration for this frame class is 13" props, 740 to 750 Kv motors on 4S.
Maximum rated take off weight is 3.5 Kilos.
To run 6S you need to stretch the arms so you get as close to 800mm so you can run 15" props which should be fine with those motors.
I have stretched mine out to about 780mm, but I'm still waiting on some motor mounts to arrive. They should push the stretch to 800mm
Here are the specs for my 680 Pro before I started the stretch:
TOW (g) 3215
Battery Capacity (mAh) 10000
Number of Cells 4
Battery Weight (g) 818
Battery energy density (Wh/kg) 180.9290953545
Watts Per Motor 65.3
Thrust per Motor (g) 535.8333333333
Motor Efficiency (g/W) 8.2057172027
Expected Flight Time 22.6646248086
Flight Time with 20% Reserve 18.1316998469
680 Pro Bare Weight (No LiPo) 2397
Multistar Elite 4006-740Kv Motors
13" x 4.4" Sail Wooden Props
X-Rotor 40A OPTO ESCs
Pixhawk Flight Controller
915mHz Telemetry
FrSky X8R
Tarot 'Small' Retracts
SJ4000 'clone' camera
2 Axis Gimbal w/8bit SBGC
Multistar 4S 10000mAh 10C
Thanks. I am currently running this on a single 5000mAh 6S battery @ 50C. I have tried to run a 12000mAh 6S battery @ 10C with no luck either. If I change out the battery will that compensate for not stretching it out, or is it better to swap out the motors? I do have two 1500mAh 4s @ 100C batteries if that would help.
@OldGazer is right… check your all up weight 12" duel props + 480 KV motors seems very low rpm for 12" prop… I tried to find the motors in ecalcs but do not see them… what is the all up weight ?
First I appreciate all the help so far. I'm learning a bunch about the build and where I went wrong.
Base weight with a 5000mAh 6s battery is 2600g. There is no payload currently on the aircraft.
Is it worth upgrading to 13" props first, or just go straight to new motors.
Here is what I calculated from ecalc. The motor is under Multistar and not Turnigy, took me a while to find that. The ESC and prop are a WAG.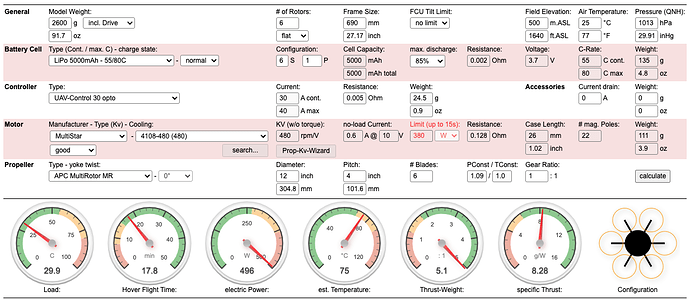 Read the specs for my 680 Pro…
So I finally got to adding new motors to the 680 build, Tarot 4006/620KV, and a 4S 10000mAh battery. Still no luck with this build, now it doesnt appear there is enough thrust to get off the ground. I did check all motors rotation and props. I have recalibrated the ESCs but nothing else. Should I just go through and do a factory reset on the Pixhawk and start fresh?
Thanks
So what is the All-up-weight with that battery?
The total weight is about 2600 grams.
Here are the weights for the build:
Copter - 1770g
10000mAh 4S - 850g
5000mAh 5S - 630g
5000mAh 6S - 750g
I tried to fly yesterday with the 4S and could not take off. Changed over to the 6S and was able to get about 2 meters up but then it slowly sank back down to the ground. Regardless of which battery I have hooked up, QGroundControl is reporting Potential Thrust Loss on X, where X is any one of the motors. The Thrust Loss happens quite often and to random motors during flight or on the ground.
Thanks.
Did you double checked that your props are in sync with the motor directions ?
CCW props on a CCW motor and vice versa.
Would you be able to post the .bin log from the 2m hop flight?
Props are on correctly, have checked several times. It does get some altitude but then will come right back down due to throttle loss. Hopefully attached is the BIN file from tonight's flight, it did not save the other day. Same situation, gained altitude nicely but then gravity took over.
Access denied to that log file
Otherwise, pretty much what Oldgazer said…
Updated the link to the log
You've got 3 motors at maximum and 3 motors struggling.


According to ecalc the Tarot 4006 and 4S should work well with 12inch props.
EDIT: Oneshot125 - I'd probably change to Dshot150 or ordinary PWM
EDIT2: if you do change back to PWM, rerun your RC calibration then ESC all-at-once calibration.
Also be sure and check your props are all spinning on the same plane - if one motor mount is even fractionally twisted that will introduce a physical yaw imbalance that you motors will have to fight the whole time, leaving less headroom for other attitude control. This is a common problem.
To set DSHOT150, connect with MissionPlanner, go to complete parameter list or parameter tree
Set MOT_PWM_TYPE to 4 and then reboot the flight controller.
Check this page: https://ardupilot.org/copter/docs/common-dshot.html#common-dshot
Download and install the BLHeliSuite32 config software (not the chrome web app)
Check this page for BLHELI passthrough - you'll be able to connect and configure the ESC's through the flight controller !
https://ardupilot.org/copter/docs/common-blheli32-passthru.html
You can also use the BLHELI software to reverse the direction of any motor without changing the wiring. You can use this to turn off the low RPM power protect feature in each ESC, and make other changes as necessary.
Use the MissionPlanner motor test check all motors are in the right order and spinning the correct direction.
Check this post to see what the MissionPlanner motor test layout is like:
https://discuss.ardupilot.org/t/front-arms-no-lift
Be sure and run through the tuning guide and that spreadsheet, plus everything else you can find that seems related - a few hours reading sure beats weeks rebuilding and replacing broken parts.
Sounds good. I'll report back when I've gone through this. Thank you!