Hello,
I made some logs about a strange behaviour with Heli_Dual.
It is about of basic control allocation, so the copter is not really relevant (it's a chinook-type built of Trex450-s with H3 swashplates and a Pixhack, arducopter 4.0.6).
In order to locate the problem all the special features were deactivated (H_DCP_YAW=0, H_YAW_SCALER=0), and the yaw axis tunable parameters were zeroed out.
So one can concentrate on the pitch inputs only. No other input is applied in the two logfiles, only pitch. No servo is reversed.
First logfile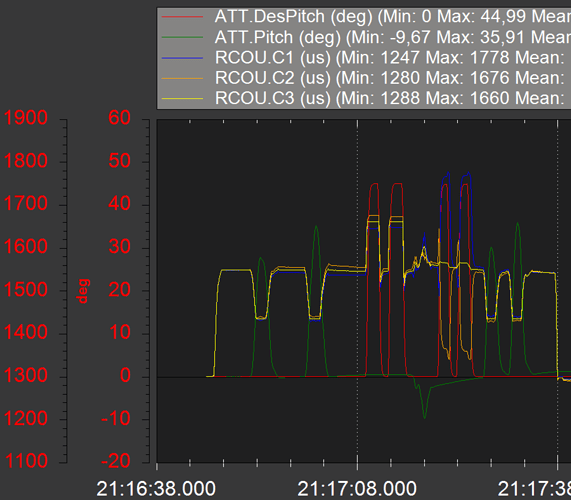 Arming, Stabilize mode. Nose is elevated two times (green ATT pitch 0=>20deg). During nose-up the front collective is lowered by the stabilisation (RC_OUT C1,C2,C3 1500=>1400). This is OK.

Positive pitch is applied, two times again (red ATT desPitch 0=>40deg)
Front collective is added (RC_OUT C1,C2,C3 1500=>1600). This is OK.

The copter is rotated by 90deg (ATT yaw 200=>280). This could be a wind gust, turbulence, small collision, or short assymetric motor torque or other major disturbance in the air.

Then the nr.2 is repeated: positive pitch is applied (red). But instead of collective increase, the swashplate is now tilted (RC_OUT C1up C2down, C3constant). This is a roll input, as it would be in 'simple' mode.

Then the nose is elevated again. The stabilisation in the frame coordinates is correct: the front collective is lowered.
My first tought was, that somehow the 'simple mode' is unintendently active. But it seems to be more complicated as the next logfile shows.
If i know well, a new user is not allowed to attach documents (the two logs and parameter files) and can paste only one picture. so i will continue in a new part soon.