Hey,
While testing my drone limits with 3 blades I was experiencing extreme braking maneuvers,
the drone goes 114° while the ANGLE_MAX = 4500, which mean it way over the limit.
As you can see in the picture below, the ATT.DesRoll is doing good with ±45° but the Roll itself goes all the way to that dangerous angle.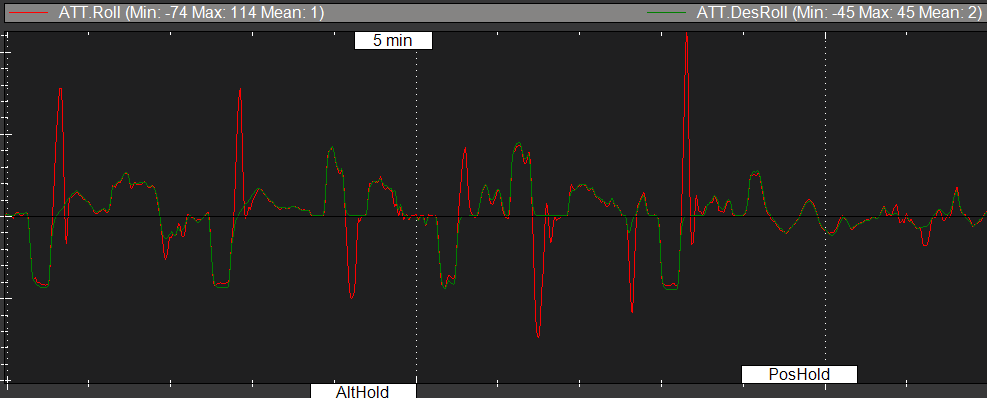 it's happen in AltHold & PosHold (Where braking happen), in Stabilize it's all good.
In pitch axis the drone reach extreme braking angles as well…
Things i've tried :
Reducing ANGLE_MAX to 3000 (from 4500), just the same, DesRoll = ±30 but the Roll goes way over than that.

Reducing ATC_ACCEL_R_MAX to 25k ( it was around 45k ) -> i'm not satisfied with this,it helped just a little bit and
the drone felt like there is a delay when I moving the Roll stick.

Reducing PHLD_Brake to 5 (from 8), just to check if it helps, but nothing, exactly the same.
After all this I tried to re auto-tune the Roll axis, after the autotune it seems like it helped, but I flew it for just few minutes.
Today I tried again and all back to the same extreme braking maneuvers.
The drone using KDE 4213XF motors (quad) with 50A hobbywing ESCs.
Paramlist after Roll autotune - 3 Blades.param (10.2 KB)
Last flight log - https://drive.google.com/open?id=0B6jjY0zzAT9ZWkNsQ0U3aGRvUEk (couldn't upload here cause it was too big)
If you have any idea that can help me it will be great.
Thank you in advnace,
Liad