Hello everyone,
While we were manually tuning the gains on the roll and pitch on a X8 copter today, we encountered two cases of « EKF primary changed » during flight.
After analyzing the corresponding logs, we found out that the first barometer glitched punctually by reporting an abnormal pressure spike forcing the change in the EKF. The way it appears in the log, as one single frame out of range, makes me believe it could be a communication problem with the barometer…
Is there a way to determine whether it is an hardware or software issue?
I do not believe it is the case since the Cube was heated, but could the low temperature outside be causing this problem?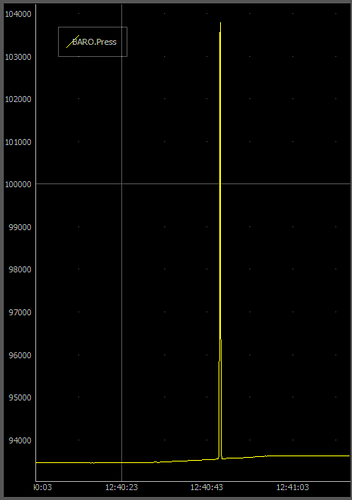 General hardware in use :
FCU : Cube Orange
ArduPilot Version : 4.0.0 (49693540)
Carrier Board : Kore Carrier Board
GPS : 2*Here2 (One set up on I2C connected on the GPS1 serial port, the other is set up on UAVCAN)
Flight conditions:
Outside Temperature : -3,5°C (Because of the outside conditions, all of our flights were done after the FCU was heated internally, got to its targeted temperature and rebooted to avoid cold boot issues.)
Wind : Approximately 5 km/h (~10 km/h in gust)
Visibility : Clear
Below are the two corresponding logs where the problem occurs :


PS: you will see that there are a number of « EKF_YAW_RESET » reported at the end of each logs while the copter is landed. This phenomenon occurs every time we download logs from FCU using the v4.0.0. It happens for us on multiple of our copters, and occured on multiple type and versions of the Cube FCU (we do not have any experience with other types of flight controllers). I don't know if this behavior was reported yet.