Hello everyone
I'm trying to get ESC telemetry from my 4in1 ESC to my Flight controller on my quadcopter and then see this ESC data in Mission Planner.
I am able to connect to the ESC via USB to the Flight Controller using BLHeliSuite.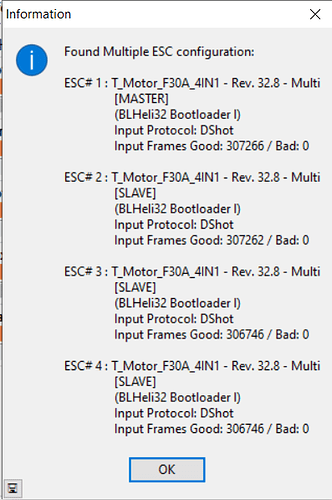 I am also able to see this message in Mission Planner:

But these ESC stats are all 0: (both when armed and when disarmed)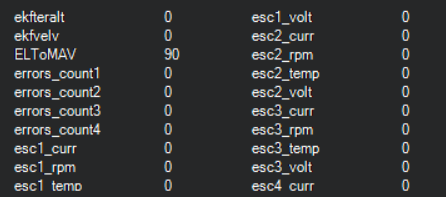 Hardware, software and param details

ESC: T-motor Cinematic F30A 6S 4IN1

Supports DShot150/300/600, ProShot1000, OneShot125 etc.
Running BLHeli_32 v.32.8 (verified)

Flight controller: Diatone Mamba F405 MK3

Supports DShot300/600/1200

Firmware: MambaF405US-I2C, ArduCopter V4.2.0-beta1, (Running beta since it added support for my FC)

Mission Planner v.1.3.76

I don't think I have ESC-data in the DataFlash logs either? (They are attached)

Some important params I have set right now:
SERVO_BLH_AUTO: 1
SERVO_BLH_DEBUG: 1
SERVO_BLH_TRATE: 2
SERVO_DSHOT_ESC: 1
Both SERIAL5 and SERIAL6 are set to use Protocol 16 (ESC Telemetry)

(full params at the bottom of the post)

Under battery Monitor I have set things like this:
Battery monitor 1:

Previously I've tried changing the DShot to 300, turning on Auto Telemetry on the ESC, and ofc setting the params mentioned above. But a bit at a loss as of what to do now. Any ideas?
Params:
quadcopter params.param (18.8 KB)
DataFlash log:
2022-03-06 14-56-45.bin (275.4 KB)